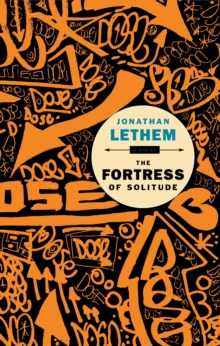 The Fortress of Solitude
Paperback
Description
From the prize-winning author of Motherless Brooklyn, a daring, riotous, sweeping novel that spins the tale of two friends and their adventures in late 20th-century America.This is the story of two boys, Dylan Ebdus and Mingus Rude.
They live in Brooklyn and are friends and neighbours; but since Dylan is white and Mingus is black, their friendship is not simple.This is the story of 1970s America, a time when the simplest decisions - what music you listen to, whether to speak to the kid in the seat next to you, whether to give up your lunch money - are laden with potential political, social and racial disaster.
This is also the story of 1990s America, when nobody cared anymore.This is the story of what would happen if two teenaged boys obsessed with comic book heroes actually had superpowers: they would screw up their lives.
Information
Format: Paperback
Pages: 528 pages
Publisher: Faber & Faber
Publication Date: 06/01/2005
ISBN: 9780571219353
Free Home Delivery
on all orders
Pick up orders
from local bookshops
Reviews
Showing 1 - 5 of 5 reviews.
Review by Rynooo
16/06/2015
Overall fairly enjoyable but excessively loquacious and would have been half the length if the author hadn't padded with incidental descriptions at every opportunity. In a more succinct version, perhaps the story and the characters would have held more weight.Confusingly, the protagonist and occasional narrator, Dylan Ebdus, is by far the weakest character in the book. Lethem's flat, matter-of-fact and, at times, downright cold prose, leaves it easier for the reader to empathise with Dylan's somewhat more interesting friends, such that the passages where they are absent tend to drag for what feels like an eternity.When this book is good, it shines. The chapters about the super powers, for example, are inspired. Sadly the highlights are few and far between, and the ending is hugely disappointing.
Review by Booktrovert
16/06/2015
Lethem is a really great writer. His prose is observant and nuanced. He creates characters and settings so realized, I felt I could touch them and see them while I was reading. The book is mostly heartbreaking and I was left just wanting to take everyone in this story under my wing in an attempt to keep them all safe. In fact, I sort of want to give Lethem a hug.
Review by presto
16/06/2015
Two boys, one black, one white, growing up together in Brooklyn in the 1970s, just before the beginning of its gentrification, a time when a white face was in a minority.The two boys, the white Dylan Edbus, and black Mingus Rude, have much in common, their fathers are creative (one in music, the other art), they are both (eventually) in effect motherless, and they share a love of comics and comic book heroes. But their friendship is not simple, it cannot be where a young white boy is prey to regular muggings, otherwise called yolking, but it is a friendship bound by among other things shared intimacies, and a ring with special powers akin to their comic book heroes.The story, part told in the third person, later narrated by Dylan in the 1990s, reflects a change in attitudes over a period some twenty years. It is about the music of the period, black and white relations, about friendship and loyalties, about lost opportunities. But above all it is a book that is beautifully written, a book to be savoured purely for the pleasure of reading.
Review by HadriantheBlind
16/06/2015
Now this is a novel - I'm very impressed with my first Lethem, and I look forward to the rest of his stuff.<br/><br/>Rich writing, fully immersion into the atmosphere of 1970s Brooklyn - every single aspect of it. Comics, music, school life, everything. I often hear of a disparity between the two parts of the novel, but I didn't particularly notice any decline.<br/><br/>A fine book. I look forward to more.
Review by AlCracka
16/06/2015
Loses a tiny bit of momentum 2/3 of the way through with an abrupt shift in time and person, but gets it back in time for the end. Terrific book.