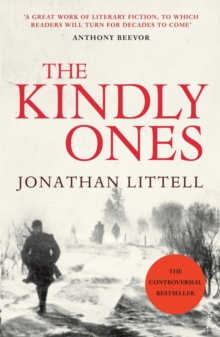 The Kindly Ones
Paperback
Description
Dr Max Aue is a family man and owner of a lace factory in post-war France.
He is an intellectual steeped in philosophy, literature, and classical music.
He is also a former SS intelligence officer and cold-blooded assassin.
He was an observer and then a participant in Nazi atrocities on the Eastern Front, he was present at the siege of Stalingrad, at the death camps, and finally caught up in the overthrow of the Nazis and the nightmarish fall of Berlin.
His world was peopled by Eichmann, Himmler, Goring, Speer and, of course, Hitler himself.
Max is looking back at his life with cool-eyed precision; he is speaking out now to set the record straight.
Information
Format: Paperback
Pages: 992 pages
Publisher: Vintage Publishing
Publication Date: 01/02/2010
ISBN: 9780099513148
Free Home Delivery
on all orders
Pick up orders
from local bookshops
Reviews
Showing 1 - 3 of 3 reviews.
Review by johnthefireman
16/06/2015
Written in the form of the memoir of an SS officer, I would characterise this not only as a narrative of the gritty horror of war, but also an attempt to explain (and I think it "explain" rather than "justify") how ordinary people can get caught up in perpetrating something as horrific as the holocaust.It does not dwell on "only obeying orders", but rather on someone who, as a committed Nazi, believes that unpleasant actions, even things which he may disagree with personally and believe to be wasteful and misguided, may be necessary during a time of total war. It is compounded by the aura of the Fuhrer and his claim to represent the Volk. It is made worse by the inhumanity of war. At a time when life is so cheap, particularly on the Eastern Front, soldiers routinely commit such acts of brutality and inhumanity that performing a few more (or a few million more) hardly seems to matter.The narrative deals with more than the killing of Jews. Quite early on many categories of Germans were killed (mentally ill, elderly, etc) to get rid of useless mouths to feed. Behind the lines in eastern Europe people were killed because they might become, or support, partisans and saboteurs. The narrator recognises that not all, in fact not even a majority, pose a threat, but in the fog of war who has the time to really investigate? Easier to kill them all. At times he questions the issue, but not on what might be considered moral grounds. Wouldn't some of the overrun populations be more use to their conquerors if they were assimiliated rather than exterminated? What a waste that so many healthy concentration camp inmates were killed or died due to poor conditions and ill-treatment when Germany was desperate for slave labourers in its armaments factories. No such sympathy for the useless women, children and elderly, though.It's a long book (over 900 pages of small print) and at times it is hard going, not only because of the horror of the subject but also because the writing is a bit turgid in places. There are also long philosophical discussions, some of which are interesting but others not so, and rambling dream sequences when he is wounded, sick or unstable. I'm not really sure what their relevance is, nor that of his relationship with parents and sister, unless it is to emphasise how mad people become in that sort of war situation.It ends as Berlin falls to the Soviet army, with an unexpected twist right on the last page. All in all excellent, albeit not light, reading.
Review by PennyAnne
16/06/2015
At nearly 1,000 pages and with paragraphs that run to several pages, this was a very difficult book to read. The author, though of American heritage, lives in France and originally wrote the book in French where it won numerous awards and was highly praised. I really wanted to read this book but found it such heavy going that I ditche...d it after getting through about half - and I really never do that, if I start a book and get further than about 20 pages, then I'm committed and will finish it. The subject matter is distasteful (the story of an SS officer who was present at all the 'big' WWII moments - the initial Jewish cleansings, the siege of Stalingrad, Auschwitz, Birkenau and he even meets Hitler) but I also just didn't 'get' what the author was aiming for. I think the point of the book was to demonstrate how 'anyone can do anything' given particular circumstances. Littell is not an apologist for the Nazis but he does make the point that war is drudgery, boredom, terror, orders and the gradual desensitising of human feeling - but I get that, I didn't need to read this novel to understand that and I'm not sure who would. I found it interesting that UK reviews praise the book highly while US ones have tended in the opposite direction. I think the translation is part of the problem but it's also a book that once you start to think about it, the coincidences are too much, the failings and depravities of the narrator are too obvious while at the same time the narrator's obvious cultural and intellectual background are also used too often to drive home the message - anyone can do anything. The author has a lot of promise but apparently he wrote the book freehand in a matter of weeks (albeit after years of research) and it shows
Review by dalekk
16/06/2015
I read this novel over last summer - a bit of an odd choice for holiday reading. While I couldn't say that I 'enjoyed' it in the conventional sense of the word, I certainly found it interesting both in what Littell was attempting - the sheer scope and size of his research is mindboggling - and in the way he chooses to do it. He draws out the mythical thread of The Kindly Ones, in what is otherwise a work of brutal realism, in order to present the protagonist's mental decline. This is a major feature of the novel; Littel often uses his painstaking research to demonstrate the strangeness of Aue's world, for example when a colleague speaks for pages and pages about linguistics systems in the midst of chapters on atrocities. I did struggle with it as the narrative becomes more and more commandeered by Aue's descent into utter madness. The extremely unerotic sexual scenes and the fantasy episode make this a hard book to stick with until the end, which is inevitably disappointing. As the whole text is set out as a flashback, we're left wondering how he could possibly conceal this madness in his new life. The book becomes less about the reality of the Holocaust and more spiralling uncontrollably around the obsession of Aue with The Kindly Ones (no spoilers, but if you know what they are you can probably guess). He develops a sort of fatalistic idea of his approaching judgement, which is in his mind not for the thousands of innocents he has helped to kill but for a far more personal crime. We simultaneously condemn him for his blindness and wonder if, as a projection, it is another unpleasant effect of his circumstances - leading us again to question how far he's responsible for his own actions.I've given it 3 stars because, while it is thought-provoking, I honestly don't know who I could recommend this book to, if at all. I don't think it's something I'd read twice. It leaves you feeling that it's fallen short somehow, that justice is not done - but the same is true of history.