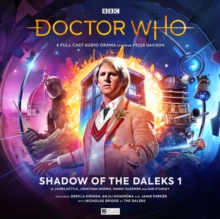 Doctor Who - The Monthly Adventures #269 Shadow of the Daleks 1
CD-Audio
Description
This is the first in a story split across two releases (to be followed by Shadow of the Daleks 2 releasing December 2020) recorded and produced entirely during the Covid-19 lockdown.
Together, the two releases make up a 'mini-season' for Peter Davison's Fifth Doctor as he is caught up in the Time War.
Each part contains four one-episode adventures, in which the Doctor lands in different times, different places and keeps meeting the same faces, but as different people. 1. Aimed at the Body by James Kettle. An encounter with a notorious cricketing legend should be right up the Doctor's street, but the unexpected appearance of an old enemy is about to send the Doctor on a quest. 2. Lightspeed by Jonathan Morris. The trail has led the Doctor to a spaceship in the far future - where he finds himself trapped in the middle of a terrifying revenge plot. 3. The Bookshop at the End of the World by Simon Guerrier.
It's very easy to forget yourself and get lost in a bookshop.
But in some bookshops more than most... 4. Interlude by Dan Starkey. The play's the thing! Or is it? The Doctor is roped into a theatrical spectacular - but who is he really performing to?
CAST: Peter Davison (The Doctor), Nicholas Briggs (The Daleks), Dervla Kirwan (tba).
Anjli Mohindra (tba) Jamie Parker (tbs).
Information
Format:CD-Audio
Publisher:Big Finish Productions Ltd
Publication Date:30/11/2020
Category:
ISBN:9781838680121