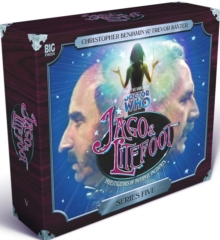 Jago & Litefoot: Series Five
CD-Audio
Description
After travelling through time and space with the Doctor, Henry Gordon Jago and Professor Litefoot are back in London starting brand new lives.
Jago has become a huge celebrity and Litefoot the quiet owner of a bookshop, but in all other respects it is business as usual.
Except they're trapped in the 1960s...5.1 The Age of Revolution (by Jonathan Morris).
Jago and Litefoot are back in London, but in the wrong century.
Reunited with Ellie Higson, they settle into new lives and investigate new cases...But the past is coming back to haunt them. 5.2 The Case of the Gluttonous Guru (by Marc Platt).
There are toads on the loose on the streets of London.
People are falling ill in restaurants...and Jago and Litefoot are on the case of food that eats people. 5.3 The Bloodchild Codex (by Colin Brake). A stranger arrives at Professor Litefoot's bookshop, in search of a work called The Bloodchild Codex.
Soon Jago, Litefoot and Ellie are facing an ancient book which threatens to bring a terrifying power back into the world. 5.4 The Final Act (by Justin Richards). It's the night of Jago's biggest show - but he isn't quite prepared for the special guest star...as the curtain falls, can Jago and Litefoot find their way home?
Information
Format:CD-Audio
Publisher:Big Finish Productions Ltd
Publication Date:31/03/2013
Category:
ISBN:9781844355631
Also in the Jago & Litefoot series