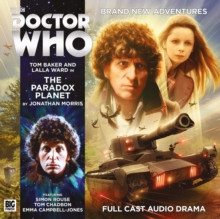 The Paradox Planet
CD-Audio
Description
This range of two-part audio dramas stars Tom Baker reprising his most popular role as the Fourth Doctor (from 1974 - 1981) with a number of his original TV companions.
This fifth series reunites the Doctor with Romana (Lalla Ward), a fellow Time Lord for adventures across Time and Space!
The TARDIS arrives in the path of an advanced war machine.
But this isn't just any tank - it's a Time Tank, and it smashes through time.
Welcome to a planet quite literally at war with itself.
Soldiers from the future are attacking the past of their own planet - gathering resources and stealing endangered species.
But the past is not without weapons of its own - leaving deadly devices ready to trigger many years ahead after their enemies have been born.
Trapped at opposite ends of a temporal war, the Time Lords have two time zones to save.
But who is in the right, and who in the wrong? And when history itself is against you, can anybody actually win? Note: The adventure continues in next month's Doctor Who: Legacy of Death.
The fifth series in a Big Finish range which is hugely popular with fans of the classic TV series Doctor Who. The pairing of the Doctor and Romana harks back to the most-watched period of Doctor Who, one that to a generation is the most loved and iconic and which broke the records for viewers of the show.
Tom Baker's portrayal of the Fourth Doctor Who still tops popularity polls today.
He was a special guest in 2013's 50th anniversary story Doctor Who - The Day of the Doctor.Guest stars Simon Rouse and Tom Chadbon are not only familiar faces from a wealth of TV shows, but are firm Doctor Who fan favourites for their roles in top stories Kinda and City of Death.
CAST: Tom Baker (The Doctor), Lalla Ward (Romana), John Leeson (K9), Simon Rouse (Drang), Tom Chadbon (Embery), Emma Campbell-Jones (Shola), Paul Panting (Fyrax), Laura Rees (Tyrus), Bryan Pilkington (Lostar), Jane Slavin (Medea), John Banks (Valchak).
Information
Format: CD-Audio
Publisher: Big Finish Productions Ltd
Publication Date: 30/04/2016
Category: Space opera
ISBN: 9781781787311
Free Home Delivery
on all orders
Pick up orders
from local bookshops