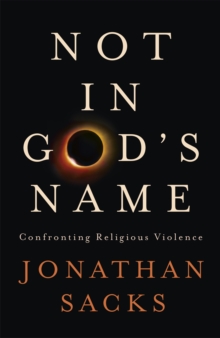 Not in God's Name : Confronting Religious Violence
Hardback
Description
Despite predictions of continuing secularisation, the twenty-first century has witnessed a surge of religious extremism and violence in the name of God.In this powerful and timely book, Jonathan Sacks explores the roots of violence and its relationship to religion, focusing on the historic tensions between the three Abrahamic faiths: Judaism, Christianity and Islam.Drawing on arguments from evolutionary psychology, game theory, history, philosophy, ethics and theology, Sacks shows how a tendency to violence can subvert even the most compassionate of religions.
Through a close reading of key biblical texts at the heart of the Abrahamic faiths, Sacks then challenges those who claim that religion is intrinsically a cause of violence, and argues that theology must become part of the solution if it is not to remain at the heart of the problem.This book is a rebuke to all those who kill in the name of the God of life, wage war in the name of the God of peace, hate in the name of the God of love, and practise cruelty in the name of the God of compassion.For the sake of humanity and the free world, the time has come for people of all faiths and none to stand together and declare: Not In God's Name.
Information
Format: Hardback
Pages: 320 pages
Publisher: Hodder & Stoughton General Division
Publication Date: 01/06/2015
Category: Interfaith relations
ISBN: 9781473616516
Free Home Delivery
on all orders
Pick up orders
from local bookshops
Reviews
Showing 1 - 1 of 1 reviews.
Review by atticusfinch1048
27/08/2015
Not in God's Name – An Interesting Opening to a debateFormer Chief Rabbi Jonathan Sacks has just published one of the most pertinent books about religious extremism that should be the beginning of a debate on religious violence. This is a well researched well written start to a debate that needs to be taken about how we can understand radical politicised religious violence. While not coming up with a complete answer what Jonathan Sacks is doing is inviting us to think about how we can end radical politicised religious violence.At present there is a whole slew of books that have been published on religious violence mainly from a Christian standpoint looking at Islamic violence this is a wonderful complimentary book to that canon and vital at the same time.Sacks open the book looking at a definition of evil and reminding us that Judaism, Islam and Christianity are the three Abrahamic faiths, religious cousins. There is an interesting debate about the sociology of the Abrahamic faiths, the history, philosophy, and psychological insight into relationships which includes a sort of sibling rivalry, rejection, where all three see themselves as victims, scapegoats, and the need to search for reconciliation.In the final chapter Sacks addresses his specific remedies to religious violence which are aimed specifically towards the Abrahamic faiths. At least unlike politicians and so called media experts and commentators, who will disagree with Sacks ideas, there is no flailing around looking for an answer. Sacks also points out that have a vested interest in the problem of violence are actually part of the problem.In God's Name does not offer a cure but it certainly offers a diagnosis and that the current pace of religious violence offers those opposed to religions to state their case even more at the moment. What Sacks does say that one of the things religions can do is learn to honour God's name and be more like his likeness may help to solve the problems that arise from religions.Those who are not active in any faith will point out the many points that they will not agree with but this book is not designed for a non-believer it is written for those who have a faith and want to understand religious violence.Those with a faith will receive this book and its teaching and wisdom with an open mind while those commentators who do not, will continue flail around and come up with nothing.