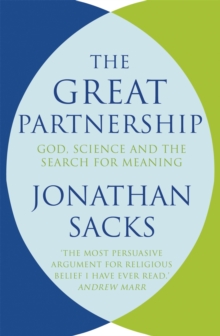 The Great Partnership : God, Science and the Search for Meaning
Paperback
Description
Writing with his usual grace and fluency, Jonathan Sacks moves beyond the tired arguments of militant atheists such as Dawkins and Hitchens, to explore how religion has always played a valuable part in human culture and far from being dismissed as redundant, must be allowed to temper and develop scientific understanding in order for us to be fully human. Ranging around the world to draw comparisons from different cultures, and delving deep into the history of language and of western civilisation, Jonathan Sacks shows how the predominance of science-oriented thinking is embedded deeply even in our religious understanding, and calls on us to recognise the centrality of relationship to true religion, and thus to see how this core value of relationship is essential if we are to avoid the natural tendency for science to rule our lives rather than fulfilling its promise to set us free.
Information
Format: Paperback
Pages: 384 pages
Publisher: Hodder & Stoughton General Division
Publication Date: 01/06/2012
Category: Judaism
ISBN: 9780340995259
Free Home Delivery
on all orders
Pick up orders
from local bookshops
Reviews
Showing 1 - 2 of 2 reviews.
Review by CatyM
16/06/2015
Jonathan Sacks' The Great Partnership, while not short and very far from simplistic, is very readable. His basic premise is that "Science takes things apart to see how they work. Religion puts things together to see what they mean." He argues lucidly and persuasively that the two are complementary, rather than conflicting, and that it is when people use one in the place of the other that things go horribly wrong. <i>"Both are necessary, but they are very different. … Whole civilisations made mistakes because they could not keep these two apart and applied to one the logic of the other. "When you treat things as if they were people, the result is myth … Science was born when people stopped telling stories about nature and instead observed it; when, in short, they relinquished myth. "When you treat people as things, the result is dehumanisation: people categorised by colour, class or creed and treated differently as a result. The religion of Abraham was born when people stopped seeing people as objects and began to see each individual as unique, sacrosanct, the image of God. "One of the most difficult tasks of any civilisation - of any individual life for that matter - is to keep the two separate, but integrated and in balance. … Things are things and people are people. Realising the difference is sometimes harder than we think."</i>After setting out his basic case, he systematically explores a number of themes including: finding God, human dignity, political power, freedom, morality, relationships, Darwin, the problem of evil and when religion goes wrong. Sacks argues - rightly - that his argument related primarily to the monotheistic, Abrahamic faiths as a group, but also to each of them individually. While he obviously draws predominantly from the Jewish scriptures and traditions, he does a good job of considering Christianity. However, he doesn't really cover Islam sufficiently well to prevent that becoming an afterthought, which is a pity. Sacks focuses heavily on relationship and covenant at times, and therefore probably needed to consider the Islamic conception of man's relationship with God in contrast to those of Judaism and Christianity. It is, despite Sacks' efforts to the contrary, a book very much centred on Judaism. There's a helpful summary of rabbinic thought included for those who are unfamiliar with historical Jewish teaching on creation, evolution and the age of the universe. As someone whose understanding of Genesis comes very much from the Christian interpretation, and predominantly the Protestant evangelical tradition, I found Sacks' analysis of the Jewish perspective on what the book is trying to say enormously helpful. And not merely of the creation stories: Sacks's analysis of the stories of Abraham and Joseph, as well as of the book of Esther, are both a useful contribution to the book and an interesting insight into the Jewish scriptures.Where Sacks really shines is his ability to set out his argument clearly, in small blocks, and put those blocks together to create a larger narrative which says something important about the world, science and religion. To do, in other words, precisely what he is claiming that religion does and ought to do. But his argument is as deeply grounded in philosophy as it is in the Jewish scriptures - as is to be expected from a philosopher rabbi.This is, above all, a thought-provoking book. It is a book—and an argument, and a narrative—which needs to be pondered and wrestled with, rather than assessed on a simple, binary true/false basis. In that, it both embodies its own argument, and repays the effort.(Also, for further examination of the problem of confusing people and things seen from a slightly different perspective, see Terry Pratchett's Carpe Jugulum.)
Review by spbooks
16/06/2015
This is a brilliant discourse on the relationship between science, faith, and religion. It should be read by three groups of people: 1) religious fundamentalists who have rejected science; 2) secular fundamentalists who have rejected religion; and 3) everyone in between.The author, Jonathan Sacks, Baron Sacks, Kt is the Chief Rabbi of the United Hebrew Congregations of the Commonwealth. His Hebrew name is Yaakov Zvi.In THE GREAT PARTNERSHIP Sacks rejects the extremism of both religious and secular fundamentalists who wish to but an unbreachable barrier between religion and science. And unlike Stephen J Gould's suggestion that religion and science should be kept separate, Sacks argues for a complementarity (a partnership) between them.This book is one of the most clearly articulated discussions on why both science and religion are necessary to maintain a full humanity and the way in which both need each other to avoid extremism. My finger was almost worn out with all the highlighting I was song on my Kindle. Sacks is very, very widely read, a deep thinker, and yet writes in a beautiful, easy-to-read narrative style making profound and memorable statements simply.His essential point is that science takes things apart to see how they work. Religion puts things together to see what they mean. The idea is simple but extremists on both ends of the alleged science vs religion divide have burdened this idea with some very destructive unhealthy nonsense. Sacks is gently critical of both religious and secular fundamentalists appealing for a respectful conversation which, all too often, neither side are willing to engage in.I can't speak highly enough of this book. It's one of the best I've read for ages. In fact, I nearly didn't read it, thinking that there can't be much more to say on the topic given the myriad books and debates on the topic. But I took the plunge and was incredibly rewarded. If you have any issues regarding the relationship between religion and science - whether you are an atheist or a "believer" - don't miss this brilliant, thought provoking read. It's easily digested meat for the mind!