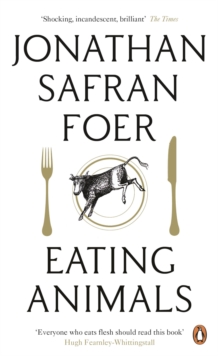 Description
Eating Animals is Jonathan Safran Foer's eye-opening account of where meat comes from'I simply wanted to know - for myself and my family - what meat is.
Where does it come from? How is it produced? What are the economic, social and environmental effects?
Are there animals that it is straightforwardly right to eat?
Are there situations in which not eating animals is wrong?
If this began as a personal quest, it didn't stay that way for long . . . ' Jonathan Safran Foer's Eating Animals is the most original book on the subject of food written this century.
It will change the way you think, and change the way you eat. For good.'Moving, disturbing, should be compulsory reading.
A genuine masterwork. Read this book. It will change you' Time Out'Shocking, incandescent, brilliant' The Times'Everyone who eats flesh should read this book' Hugh Fearnley-Whittingstall'Gripping, horrible, wonderful, breathtaking, original.
A brilliant synthesis of argument, science and storytelling.
One of the finest books ever written on the subject of eating animals' The Times Literary Supplement'Horrifying, eloquent, timely' Spectator'If you eat meat and fish, you should read this book.
Even if you don't, you should. It might bring the beginning of a change of heart about all living things' Joanna LumleyJonathan Safran Foer was born in 1977. He is the author of Everything is Illuminated, which won the National Jewish Book Award and the Guardian First Book award; Extremely Loud and Incredibly Close, which is now a major film starring Tom Hanks and Sandra Bullock; and Eating Animals.
He is also the editor of A Convergence of Birds and of a new edition of the Haggadah.
Information
Format: Paperback
Pages: 352 pages
Publisher: Penguin Books Ltd
Publication Date: 01/01/2011
Category: Food & society
ISBN: 9780141031934
Free Home Delivery
on all orders
Pick up orders
from local bookshops
Reviews
Showing 1 - 1 of 1 reviews.
Review by Parthurbook
16/06/2015
I have been vegetarian for some 20 years. My reasoning is a combination of personal health, the ethics of killing to live, and what I thought I knew about factory farming. In truth, I didn't know the half of it. Safran Foer has done the homework for me, and here presents a well-structured, insightful, moving study of the way 99% of meat gets sourced and processed. It's an angry. alarming, unsettling and ultimately horrifying polemic about what globalization and corporatism has done to the majority of our food. For the past two decades, whenever someone has asked my 'why vegetarian?' - and the question is usually asked in a restaurant while we're ordering - I have deferred answering to be polite, not wanting to put anyone off the meal they are about to eat. From now on, I'll give them a different answer: read 'Eating Animals' by Jonathan Safran Foer.