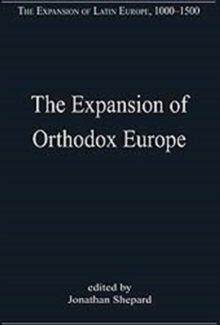 The Expansion of Orthodox Europe : Byzantium, the Balkans and Russia
Hardback
Description
This volume aims to clarify the context for the expansion of Western Europe by focusing on what had been the greatest power in early medieval Europe, the Byzantine empire, and on the continuing strengths and expansion of the Orthodox world.
Byzantine 'orthodoxy' offered a format for faith, hope and fear in various combinations, involving religious beliefs and an idealised world-order.
Its multifaceted nature helps explain Byzantium's success - the resilience of the earthly empire and the appeal of its religious organisation and rites to other societies.
The volume reprints a set of key studies, combining classic treatments of Byzantine and Slavic history with far-reaching explorations of the extent of those worlds. Part I focuses on the empire in its heyday: some studies illustrate the sense of manifest destiny bolstering the imperial order until - and even beyond - Constantinople's fall to the fourth crusaders in 1204.
The spread of the Byzantines' cult enlarged their trading zone northwards across Rus, while Byzantine-based merchants were more active than is generally realised in the Eastern Mediterranean.
Part II includes an overview of the 'fragmentation' following 1204.
Studies show how Byzantine rites and ideals of rulership were adopted by Serb and Bulgarian dynasts.
Particular attention is paid to Rus: although subjugated by the Mongols, Rus churchmen, monks and leading princes all drew on Byzantine religious texts and imagery.
From the later fifteenth century Moscow's rulers began to be portrayed as new guardians of religious correctness, even as the World's End supposedly drew nigh.
The Introduction contextualises the studies included here, highlighting the significance (and not just in terms of rivalry) of the Byzantine Orthodox world for developments in Western Europe.
Information
Format: Hardback
Pages: 588 pages
Publisher: Taylor & Francis Ltd
Publication Date: 21/12/2007
Category: European history
ISBN: 9780754659204