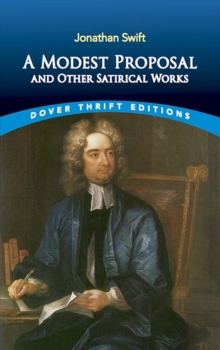 A Modest Proposal and Other Satirical Works
Paperback
Information
Format: Paperback
Pages: 64 pages
Publisher: Dover Publications Inc.
Publication Date: 02/02/1996
Category: Literary essays
ISBN: 9780486287591
Free Home Delivery
on all orders
Pick up orders
from local bookshops
Reviews
Showing 1 - 5 of 7 reviews.
Previous | Next
Review by wendyrey
16/06/2015
Brilliant.An exercise in extended irony, aimed at the English politicians who were willfully ignoring the Irish people devastated by the potato famine.
Review by BooksForDinner
16/06/2015
I don't get it. What's so funny? I think this us a fine proposal, and easily instituted here in the USA. Eat 'em up, yum.
Review by bragan
16/06/2015
This 59-page volume includes five of Swift's satirical writings. The well-known "A Modest Proposal" presents a clever plan to cure both poverty and overpopulation in Ireland and supply the rich with some tasty new treats in the process. "A Discourse Concerning the Mechanical Operation of the Spirit" and "An Argument Against Abolishing Christianity in England" deal with various religious topics. "The Battle of the Books" takes aim at the writers and thinkers of Swift's time who would disparage the ancient, classic authors, claiming to have done so much better themselves. There's also the tiny "A Meditation Upon a Broomstick," a deadpan parody that he inserted into a book containing a collection of mini-sermons as a practical joke. (The person he played the prank on, we're told, could not actually tell the difference.)The continued fame of "A Modest Proposal" is unquestionably well-deserved. It's extremely readable, darkly funny, sharply incisive, and still sadly relevant. The other pieces in this collection were somewhat more difficult going, though, partly because Swift's old-fashioned writing style is rather wordy and convoluted, but mostly because the modern reader (or at least this modern reader) lacks a lot of the cultural context with which to properly appreciate them. This edition did include a number of helpful footnotes, but that's not nearly the same thing as watching a contemporary writer jumping into a debate you're familiar with and skewering people you know. Still, despite all that, Swift's famous scathing wit does shine through. That's particularly true of "The Battle of the Books" in which he pulls no punches, utterly lambasting his targets with a jaw-droppingly impressive combination of highbrow erudition and low-down trash talk. There's no doubt about it: when Jonathan Swift disses you, you are <I>dissed for the ages</I>.Rating: This one's hard to rate. It's abundantly clear that Swift was a five-star satirist in his time, but most of these pieces haven't aged all that well, and some of the points he's making honestly seem rather wrong-headed and quaint to me at this late date. Let's call it 4/5.
Review by jmoncton
16/06/2015
Humorous - great satire! Although I admit that I read this one to increase my % to goal on 1001 books to read before you die...
Review by TheDivineOomba
16/06/2015
Ah yes. Jonathan Swift, best known for Gulliver's Travels (a story based on the corruption he saw around him, in modern times turned into a children's story). And Possibly A Modest Proposal (which I assume is assigned to students as an example of satire). I picked this book up for "A Modest Proposal", which I haven't read since high-school. This Dover Thrift Edition contains a number of other satirical stories - some more known than others. Unfortunately, satire works best when the reader understand the history and politics behind the story - and for me, the stories made logical sense, but I really didn't understand them.A Modest Proposal, on the other hand - is still a masterpiece in satire. It is worth reading - Jonathan Swift is clearly a talented author - he can make Eating Babies sound both reasonable, and terrifying, at the same time. Basically, if you aren't going to help the poor in any meaningful manner, lets think out of the box to solve this problem...
Also in the Dover Thrift Editions series | View all