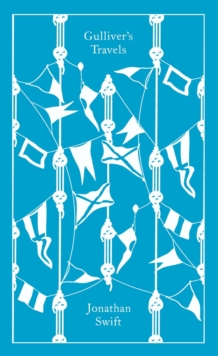 Gulliver's Travels
Hardback
Description
Part of Penguin's beautiful hardback Clothbound Classics series, designed by the award-winning Coralie Bickford-Smith, these delectable and collectible editions are bound in high-quality colourful, tactile cloth with foil stamped into the design.
Shipwrecked and cast adrift, Lemuel Gulliver wakes to find himself on Lilliput, an island inhabited by little people, whose height makes their quarrels over fashion and fame seem ridiculous.
His subsequent encounters - with the crude giants of Brobdingnag, the philosophical Houyhnhnms and brutish Yahoos - give Gulliver new, bitter insights into human behaviour.
Swift's savage satire views mankind in a distorted hall of mirrors as a diminished, magnified and finally bestial species, presenting us with an uncompromising reflection of ourselves.
Information
Format: Hardback
Pages: 336 pages
Publisher: Penguin Books Ltd
Publication Date: 25/11/2010
Category: Classic fiction (pre c 1945)
ISBN: 9780141196640
Other Formats
Paperback from £2.50
Hardback from £5.09
CD-Audio from £8.59
EPUB from £0.99
Free Home Delivery
on all orders
Pick up orders
from local bookshops
Reviews
Showing 1 - 2 of 2 reviews.
Review by YogiABB
16/06/2015
I have been reading "Gulliver's Travels" by Jonathan Swift on my Ipod Touch for the last several months during the odd moments of time like waiting in line. The book is a novel in four parts about the travels of Lemuel Gulliver to various parts of the world. The book was a real surprise for me. I had always thought of it as a children's book. The classic scene is Gulliver tied up by the Lilliputian's until they figure out that he doesn't mean to harm them.There is this vague sense that things are all great at the end. Wrong! The Lilliptutan's are a bunch of small minded people and Gulliver soon ends up in trouble. First he puts out a fire in the Queen's castle by urinating on it, drenching the Queen. That makes her mad. Second, he helps the Lilliputan's in their long standing war against the island of Blefusco but refuses to help make Blefusco totally subservient to Lilliput. He is sentenced to be blinded as punishment for this treason so he escapes.Next he winds up in the Kingdom of Brobdingnag where instead of being twelve times bigger than the inhabitants as he was in Lilliput,he is twelve times smaller. He is found by a farmer who displays him for money. Gulliver ends up in the royal court and then the story gets kind of kinky. He is used as a kind of a sexual plaything and is molested by the women of the court, including a sixteen your old girl. Gulliver writes about how disgusting the giant naked women are. This part was a hoot. I wouldn't read it as a bedtime story to your kids.Gulliver leaves Brobdingnag and has several other adventures. His final destination is the Country of the Houyhnhnm. The Houyhnhnm are a kind of a horse shaped beings. Their are human's there called Yahoo who are looked down upon by the Houyhnhnm as being base and menial and not good for much. The Houyhnhnm are very advanced and rational and listen with dismay as Gulliver tells them about Europe and how governments are run.Eventually Gulliver has to leave Houyhnhnm and return to England. At this point he has been transformed from the happy go lucky adventurer to a recluse, disgusted by all contact with humans, even with his wife, whom can hardly stand.The book is a great read. Swift is very imaginative and has a great writing style. I give it four stars out of five. It''s a classic. I'm going to miss it.Does anybody have a recommendation for another classic for me to read?
Review by AlCracka
16/06/2015
Pretty good stuff. Book 3 isn't as great, and book 4 gets a little preachy at times, but fun to read. Makes me wonder about Yahoo's decision to name themselves after it; Yahoos represent a pretty cynical, misanthropic view of humanity.
Also in the Penguin Clothbound Classics series | View all