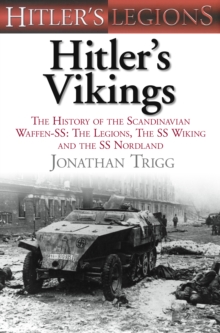 Hitler's Vikings : The History of the Scandinavian Waffen-SS: The Legions, the SS Wiking and the SS Nordland
Hardback
Description
"The Nazis� dream of a world dominated by legions of Aryan � supermen� , forged in battle and absolutely loyal to Hitler, was epitomised by the Waffen-SS.
Created as a supreme military elite, it grew to become Nazi Germany� s � second army� , an immense force totalling almost one million men by the end of the War. An astonishing fact about the SS is that thousands of its members were not German.
Men stepped forward from almost every nation in Europe - for many, sometimes complex reasons - that included hatred of Bolshevism and nationalist sentiment or even straightforward anti-Semitism.
Foremost amongst them were Scandinavians from Denmark, Norway, Sweden and Finland.
Thousands were recruited from 1940 onwards and fought with distinction on the Russian Front.
They served at first in national legions but were then brought together in the Wiking Panzer Division and the Nordland Panzer-grenadier Division.
In Hitler� s Vikings, Jonathan Trigg details the battles these men fought and what inspired them to join the Waffen-SS, based wherever possible on interviews with surviving veterans.
Many of the photographs reproduced here have never before been published.
Hitler� s � Vikings� were amongst the last men still fighting in the ruins of Berlin in 1945 - their story is truly remarkable.
Jonathan Trigg served in the 1st Battalion The Royal Anglian Regiment, reaching the rank of Captain and completing tours in Northern Ireland, Bosnia and the Middle East.
He is an established writer on military history, with a particular interest in foreign volunteer formations in the Second World War.
Hitler� s Vikings is his fourth volume in Spellmount� s Hitler� s Legions series. "
Information
Format: Hardback
Pages: 288 pages
Publisher: The History Press Ltd
Publication Date: 28/10/2010
Category: Military history
ISBN: 9780752455082
Free Home Delivery
on all orders
Pick up orders
from local bookshops