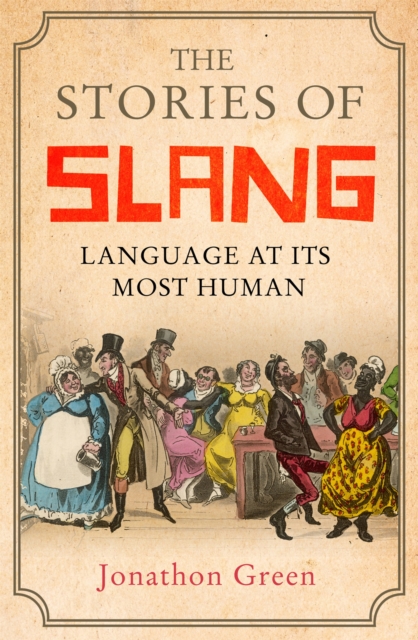 The Stories of Slang : Language at its most human
Paperback / softback
Description
'If you're up for an adventure through the back alleys of English, The Stories of Slang will not disappoint.' Kory Stamper, Times Literary Supplement'Few lexicographers are lucky enough to have both endlessly pleasurable work and the talent to write amusingly about [slang].
Jonathon Green is one . . . Lovers of language should be grateful to those who create slang, and to those few like Mr Green who make it their work to open this window into the psyche for the benefit of all.' - The Economist'By turns bawdy, sweary and irreverent, this book . . . is a fascinating look at how centuries of slang came to inform all aspects of social life, how it was used, and how much of it still lingers.' History RevealedLike the flesh-and-blood humans whose uncensored emotions it represents, slang's obsessions are sex, the body and its functions, and intoxication: drink and drugs.
Slang does not do kind. It's about hatreds - both intimate and and national - about the insults that follow on, the sneers and the put-downs.
Caring, sharing and compassion? Not at this address. There are over 10,000 terms focusing on sex, but love?
Not one. Jonathon Green, aka 'Mr Slang', has drawn on the 600,000-plus citations that make up his magisterial Green's Dictionary of Slang (published 2010, now online at www.greensdictofslang.com) to tell some of slang's most entertaining stories.
Categories range from The Body to Pulp Diction, via multi-cultural London English and pun-tastic gems. Mostly gazing up from the gutter, slang, perhaps surprisingly, also embraces the stars.
These stories may look at drunken sailors, dubious doctors, and a shelf of dangerously potent cocktails, but slang does class acts as well.
None more so than Shakespeare. Devotee of the double entendre, master of the pun, first to put nearly 300 slang terms in print. 'Shakespeare, uses, at my count, just over five hundred "slang" terms, of which 277 are currently the first recorded use of a given term.
Among these are the beast with two backs, every mother's son, fat-headed, heifer (for woman), pickers and stealers (hands), small beer (insignificant matters), what the dickens, and many more.'http://jonathongreen.co.uk
Information
Format:Paperback / softback
Pages:320 pages, N/A
Publisher:Little, Brown Book Group
Publication Date:05/10/2017
Category:
ISBN:9781472139665
Information
Format:Paperback / softback
Pages:320 pages, N/A
Publisher:Little, Brown Book Group
Publication Date:05/10/2017
Category:
ISBN:9781472139665