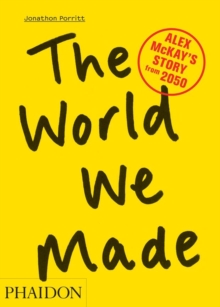 The World We Made : Alex McKay's Story from 2050
Paperback
Description
Our planet's environmental future is usually described in terms of doom and despair.
But now, for the first time, The World We Made presents a credible, positive vision of our planet that is green, fair, connected and collaborative.Part history, part personal memoir, The World We Made reveals how it is possible to reach a genuinely sustainable world by 2050; describing the key events, technological breakthroughs and lifestyle revolutions that will transform our planet.Packed with images that bring to life this exciting, high-tech and human world, featuring futuristic photographs, graphics and hand-drawn sketches, The World We Made covers topics as wide-ranging as the 'energy internet' to slow travel airships; 3D printing to robotics; and personal genomics to urban agriculture - all grounded in cutting edge technological insights.Providing all the tools and advice to prepare yourself for what is ahead, the book is essential reading for everyone interested in a positive future for our planet.
All royalties will go to support the work of Forum for the Future, one of the world's leading sustainable development non-profits.
Information
Format: Paperback
Pages: 320 pages
Publisher: Phaidon Press Ltd
Publication Date: 01/09/2013
Category: Central government policies
ISBN: 9780714863610
Free Home Delivery
on all orders
Pick up orders
from local bookshops
Reviews
Showing 1 - 1 of 1 reviews.
Review by PeterNZ
27/08/2015
My verdict: Interesting. It is a fictive non-fiction book. A history teacher, moving on to a new job and doing a last project with his class: Writing down the history of the last 50 years and how the world has changed. The twist: He does this project being 50 years old in the year 2050. <br/><br/>I am sure if you take this book apart and look at the technical details and figures and things you will find many things which might not make sense. Which might not be possible like this. But the book really reads like a non-fiction book about the last 50 years history. It is a perfect write. No literature highlight. <br/><br/>I like this book because it is a positive book. It describes a world where a lot - not all - of our problems of today have been fixed. I would love to live in the world described in this book. Will we ever? I don't know. The main roadblock I see is in the human mentality. A lot of solutions described in this book rely on us humans waking up, putting our drive for profit aside and fixing stuff. Will this ever going to happen? <br/><br/>I gave it 4 stars just simply for a book well written and a book which makes hope.