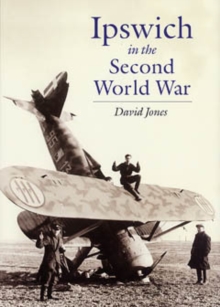 Ipswich in the Second World War
Hardback
Description
Ipswich like every other town, had its own war. This new book provides a penetrating view of the war as it affected Ipswich.
Within the compass of one provincial town it is possible to reveal the inter-relationship of events, authorities and the general public.
By using previously unknown police and civic documents, other original archives, unpublished diaries and oral history, the author gives an intimate and fascinating picture of how one town organised for total war.
Key incidents were shared in the memory of an entire generation and overlapping accounts by different voices enabled the author to build up a powerful mosaic of their experiences. The book includes the histories of the disturbed and the disaffected as well as those of the better-known `Home Front' organisations from Dig for Victory to the A.R.P. and the Home Guard. A rigid and sometimes inept local bureaucracy was forced to transform itself quickly under the pressure of near defeat and possible invasion.
The author reveals a world both remote and familiar.
The seeds of modern youth culture germinated and the ongoing struggle between the attitudes of the Poor Law and of the Welfare State began.
Neither official nor reverential, the author tries to give an honest picture of a town, at times near the end of its tether; how it coped with its war and how it was changed by it.
His book will be welcomed well beyond the borders of Ipswich by those interested in the period, while it will have strong appeal to all who live in the town or whose family did at the time.
Information
Format: Hardback
Pages: 208 pages
Publisher: The History Press Ltd
Publication Date: 05/03/2008
Category: Local history
ISBN: 9781860773006