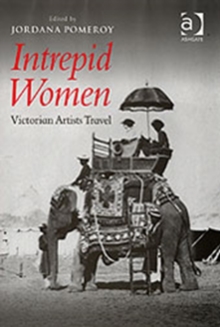 Intrepid Women : Victorian Artists Travel
Hardback
Description
Despite the increased visibility of Victorian women artists in museum exhibitions and historical studies, the art produced by Victorian women has been viewed through a restrictive lens.
Scholars have focused on works produced for the marketplace, but have overlooked art created and displayed outside of established venues and institutions of higher learning.
Drawing upon sketches, paintings, and photographs, Intrepid Women: Victorian Artists Travel is a groundbreaking study that examines the art that women produced whilst traveling, as well as the circumstances that took these artists - both amateurs and professionals - far beyond the reaches of the traditional Grand Tour.
Traveling throughout the British Empire, including the Middle East, India, Canada, and North Africa, and even to the Americas, the artists adapted to new climes and foreign cultures partially by documenting the unfamiliar through their art, sometimes at great physical risk.
This volume of essays offers fresh evidence that through their travel and art, women extended both geographic and social boundaries.
Each author presents evidence that women overcame institutional as well as cultural obstacles to improve their artistic skills and to use their art to convey worlds most British citizens would never see for themselves.
Information
Format: Hardback
Pages: 192 pages
Publisher: Taylor & Francis Ltd
Publication Date: 28/12/2005
ISBN: 9780754650720