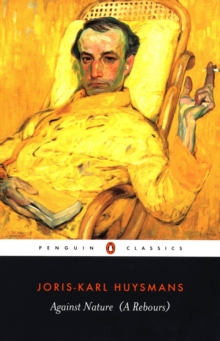 Description
Infamous as the inspiration for the novel which slowly corrupts Oscar Wilde's Dorian Gray, Joris-Karl Huysmans' Against Nature (A Rebours) is translated by Robert Baldick with an introduction by Patrick McGuinness in Penguin Classics.A wildly original fin-de-siecle novel, Against Nature contains only one character.
Des Esseintes is a decadent, ailing aristocrat who retreats to an isolated villa where her indulges his taste for luxury and excess.
Veering between nervous excitability and debilitating ennui, he gluts his aesthetic appetites with classical literature and art, exotic jewels (with which he fatally encrusts the shell of his tortoise), rich perfumes and a kaleidoscope of sensual experiences.
Against Nature, in the words of the author, exploded 'like a meteorite' and has enjoyed a cult following to this day.This revised edition of Robert Baldick's lucid translation features a new introduction and a chronology, and reproduces Huysmans's original 1903 preface as well as a selection of reviews from writers including Mallarme, Zola and Wilde.Joris-Karl Huysmans (1848-1907) is now recognized as one of the most challenging and innovative figures in European literature and an acknowledged principal architect of the fin-de-siecle imagination.
He was a career civil servant who wrote ten novels, most notably A Rebours and La-Bas.If you enjoyed Against Nature, you might like Huysmans's The Damned (La-Bas), also available in Penguin Classics.
Information
Format: Paperback
Pages: 288 pages
Publisher: Penguin Books Ltd
Publication Date: 01/05/2003
Category: Classic fiction (pre c 1945)
ISBN: 9780140447637
Other Formats
Paperback from £6.45
EPUB from £3.99
Free Home Delivery
on all orders
Pick up orders
from local bookshops
Reviews
Showing 1 - 5 of 9 reviews.
Previous | Next
Review by achelate
16/06/2015
A total roll through the senses. At times the book was hilarious, sensual and fascinating.
Review by williamcostiganjr
16/06/2015
A dandy retreats from society to ensconce himself in his lair of books, perfumes, flowers, art, etc. An amusing and entertaining read. You can skim any parts you find dull, but Huysmans is a skilled enough writer that reading the protagonist's opinions about obscure Latin authors somehow became enjoyable.In some ways a forerunner to American Psycho.
Review by TheBooknerd
16/06/2015
Though dry and dragging, this is an interesting book to be at least familiar with. It is a quintessential depiction of the fin de siecle and the degenerate mode of literature.
Review by Wubsy
16/06/2015
I picked out this book in the bookstore because of it's intriguing cover. Something about the expression of the man's face seemed lost and almost crazed. The novel did not disappoint me, and in Des Esseintes, Huysman's created a character who remains agonizingly out of reach. The descriptions throughout are magnificent, (a sort of exciting Dickens), and I found the protagonist at all times lovable and nauseating. The novel is beautifully crafted, but simultaneously seems to be teetering on the edge of total collapse and disintegration. That it doesn't is all part of its peculiar charm.
Review by TheCriticalTimes
16/06/2015
In English the title was translated as either 'Against Nature' or 'Against the Grain', which to me are two very different titles. It occurred to me that this tension within the meaning of the title itself is a good indication of the contents of the novel. We are introduced to a French aristocrat by the name of Des Esseintes who is of feeble stamina and who might be called a dandy in British terms. We follow the young man as he slowly retreats out of everyday life into a decadent seclusion of his own design. At times opulent in its descriptions of Des Esseintes' mansion, at times excruciatingly detailed and accurate in Des Esseintes' analysis of his tastes, desires and repulsions, the novel lures the reader into an artificial world of what seems to be luxury. Page after page Des Esseintes delves deeper into his own mind. He collects rare specimens of everything and if there does not exist a rarity he believes he should have, he has it created from his own detailed drawings and directions. As a side note, most of the objects and interiors the young man envisions were based on actual examples of dandyish extravaganza.The reader is slowly included into the artificial world of Des Esseintes and slowly the alternative reality appears more and more sold. Instead the young man's health deteriorates and his mind attempts to grapple with his own choices. Inevitably he wavers between stepping back into Beau Monde or forever lock himself away into an imaginary world. He goes back and forth and makes several attempts to take either extreme leaps. In one famous scene Des Esseintes is well on his way to visit London when after thinking over the plan in his mind he decides that in his mind he has already read and imagined so much of Britain's capital that he can only be disappointed by traveling there. Instead he returns to his mansion. Ultimately his private physician offers him the choice: go back into the world and regain your physical health, or retreat into your own mind and suffer.The author, Joris-Karl Huysmans, wrote the novel in a time when literature's standard was realism devoid of symbolism or misplaced fantasy. Huysmans received both high acclaim from writers such as Oscar Wilde, but also derision from esteemed authors like Zola, who was Huysmans' mentor and inspiration. Perhaps this book can be seen as the ultimate anti-novel in the sense that it does not feature any trappings of a book designed to entertain. If you want to convey a point or principle then you either write it with great entertainment value but your meaningful message might not be remembered, or you write the work in a serious tone, in which case it will be remembered but not widely read. Huysmans took the extreme side of those polar opposites and goes beyond somber writing and confronts the reader head on by presenting the world of Des Esseintes from a solipsistic standpoint in which as a reader you have no other safety net than your own experiences and opinions. Instead of taking the Disney approach of embedding a clear takeaway moral message, the novel's aim is to have the reader make decisions on how to travel through life and in that sense it is the paragon of letting the reader take away whatever usefulness can be derived, even if this means rejecting the novel.