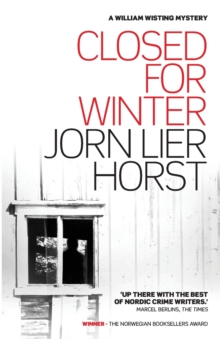 Closed for Winter
Paperback
Description
The second William Wisting mystery to be translated into English, after the successful Dregs.
Ove Bakkerud, newly separated and extremely disillusioned, is looking forward to a final quiet weekend at his summer home before closing for winter but, when the tourists leave, less welcome visitors arrive.
Bakkerud's cottage is ransacked by burglars. Next door he discovers the body of a man who has been beaten to death.
Police Inspector William Wisting has witnessed grotesque murders before, but the desperation he sees in this latest murder is something new.
Against his wishes his daughter Line decides to stay in one of the summer cottages at the mouth of the fjord.
Information
Format: Paperback
Pages: 328 pages
Publisher: Sandstone Press Ltd
Publication Date: 17/10/2013
Category: Crime & mystery
ISBN: 9781908737496
Free Home Delivery
on all orders
Pick up orders
from local bookshops
Reviews
Showing 1 - 2 of 2 reviews.
Review by smik
27/08/2015
There is a nice introduction to William Wisting at the beginning of this novel, giving the reader a description of the setting, and Wisting's personal history. The foreword also points out how Jorn Lier Horst draws on his own deep experience of police procedures and processes in these novels, resulting in a strong sense of these novels being grounded in reality.CLOSED FOR WINTER brings two different types of crime together: those who want to take advantage of Norway's wealth by burglarising summer cottages now closed up for winter, and drug runners bringing cocaine into Norway and using it as a base for money laundering.Wisting has recently returned from sick leave, a breakdown, worn down by thirty years of increasingly complex and disillusioning police work. There are times when he wonders if he has returned too soon. This seems to lead quite naturally into reflection by the author into the state of Norwegian society, and how it compares with its near neighbours.A very satisfying read.
Review by heathrel
27/01/2016
My main gripe with Horst's novels is that he gets so focused on the action and having the plot lines sort out right in the end that he forgets to work in the right amount of detail about the characters. My favorite mystery writers leave you feeling that you really know the main character, and that if you faced a line of people, you could pick them out, even without seeing some favorite gesture. With Wisting we know he looks perpetually tired, but that's not much basis to pick him out of a crowd. I suppose that tired eyes and a<br/>gun at the shoulder go some way, but I really would like more. Especially in this novel, where the plot line keeps seeming to run its course and then somehow miraculously picks up and runs some more in a different direction.