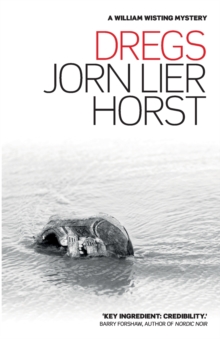 Description
Meet Chief Inspector William Wisting, Head of CID in Larvik, Norway, the latest unforgettable import from Scandinavian crime fiction.
An experienced policeman who is familiar with the dark side of human nature, he lives in challenging times for the Norwegian police force, meeting them with integrity and humanity, and a fragile belief that he can play a part in creating a better world.
A police report of a shoe containing a severed foot washed up on the sand introduces CI William Wisting.
Soon a second is washed up, but it is another left. Has there been some kind of terrible accident at sea?
Does it indicate the killing and dismembering of two victims?
Is there a link with the unsolved mystery of a number of disappearances in the Larvik area in recent months?
In this gripping police procedural, Wisting gradually gets to the bottom of the mystery with the help of his all too human colleagues and his journalist daughter, Line.
Information
Format: Paperback
Pages: 310 pages
Publisher: Sandstone Press Ltd
Publication Date: 12/08/2011
Category: Crime & mystery
ISBN: 9781905207671
Free Home Delivery
on all orders
Pick up orders
from local bookshops
Reviews
Showing 1 - 5 of 5 reviews.
Review by Beamis12
16/06/2015
I usually hate reading a series out of order but since, even though, this is the 6th it is the first translated into English. Characters were not as flawed as the characters in many nordic crime fiction, but the storyline was interesting. A bit of historical data and really enjoyed the alternate but complimenting storyline by Wisting's daughter, who is a journalist. Looking forward and hoping that the rest of the series is translated and released in the US.
Review by maneekuhi
16/06/2015
Dregs by Lars Horst is (I believe) his first English translated book and his first in the William Whisting series, but the 5th or 6th book he's written, so I think readers will have to be careful when buying subsequent books to avoid getting a surprise and perhaps disappointment with a non WW story. He's a cop, an inspector in a Norwegian coastal city. Shoes begin washing up on some nearby beaches, and unfortunately they have feet in them. Before too long this becomes a missing persons/murder/stolen money case tied to events of the past. I thought the story was well told, and the translation was good. The characters were fair. I wasn't too crazy about our protagonist nor the current love of his life. Also the resolution of the case hinged on some rather improbable events. Not sure whether I'll read more. I think Jo Nesbo's throne is safe for now.
Review by smik
16/06/2015
An excellent Norwegian police procedural, #6 in the William Wisting series, but the first to be translated into English, that has me grinding my teeth that there are not more available.The idea of the appearance of using specific body parts, in this case left feet, washing up on beaches one after another, is not a new one but definitely a good hook into a murder mystery.William Wisting, Chief Inspector of Police, is at burn out point, and at the beginning of the novel we meet him as he leaves the doctor's surgery where he has had some blood tests. He believes that crime in Norway is beginning to pay, growing rather than decreasing, and that none of the counter measures are effective deterrents. His daughter Lina is a journalist writing an article on the effects of long prison sentences on criminals, particularly those who have committed murder. There is inevitably an overlap between elements of her father's new case, and the interviews with murderers that she has set up.As the number of left feet being washed up on nearby shorelines reaches 3, the police establish a link between one of them and an old man who disappeared from a nursing home 9 months earlier. But three elderly men disappeared without trace at that time, and the story is made more complex by the fact two women also disappeared: one a schizophrenic disappeared 9 months ago, and one, more recently, also from the nursing home.A very engaging read, with good strong characters.
Review by bsquaredinoz
16/06/2015
Dregs is the sixth novel in Jørn Lier Horst's series featuring Chief Inspector William Wisting who lives and works in Stavern south of Oslo, though annoyingly (for the linguistically challenged like myself) it's the first to be translated to English. It is a classic police procedural that sees Wisting and his team investigating the appearance of two severed left feet clad in running shoes which wash ashore in separate incidents. The area is not exactly rife with crime so the Police have a reasonably good idea that the feet are probably related to four outstanding missing persons cases on their books. However, they still have a lot of work to do to piece together the case and the feet on their own do not provide much help and the coppers have to rely on good, old-fashioned legwork to get to the bottom of things.<br/><br/>I enjoyed this book very much not least because it often went in a direction I wasn't expecting. I love that in a plot. Without car chases, gruesomely described violence (I know severed feet sounds bad but it is handled well) or any of the other hallmarks of a certain kind of crime fiction Horst has produced a very clever and readable story that has a number of surprises. Although sometimes hindered by their boss who is a little too keen to discuss cases with the media Wisting and the team do manage make some sense out of the bizarre case by linking it to events from the area's past history and I enjoyed seeing the police work depicted so credibly. The fact there is a good team and a subtle sense of humour on display added to my enjoyment.<br/><br/>Wisting is a great character and though I would like to read about his earlier exploits (hint hint publishers) I thought the book did a good job of presenting him.There's enough of his background so that new readers are not left floundering but not so much that those familiar with the series would be bored. What I liked about Wisting is that although he has had some tragedy in his life (he is a widower for example) it has not left him the dysfunctional wreck common to crime fiction. He's in a new relationship with a woman in the town and he manages to maintain a good relationship with his daughter. He doesn't think much of her current job interviewing convicted murderers or her boyfriend (who has been in prison twice) but he refrains from getting on her case about these things which is undoubtedly the hardest but most sensible thing to do in the situation. On the other hand Wisting has his head in the sand a bit about his own health but this is such a realistic trait that I thought it added very well to his overall character.<br/><br/>I also liked the way the author gently but intelligently explored social themes. Probably the most interesting of these for me was the notion of imprisonment as punishment being an ineffective method for dealing with murderers. Horst uses the character of Line, Wisting's daughter who is a journalist, to tease this issue out in a series of interviews with convicted murderers who have been released from prison. It was a somewhat surprisingly thoughtful and balanced look at the issue, especially considering Horst was a policeman himself and could be expected to perhaps take a harder line on such an issue.<br/><br/>Dregs was very readable to me which I always attribute to excellent translation, in this case by Anne Bruce, as well as good original writing. I will look forward to reading more of this series though whether that proves to me earlier books or later ones remains to be seen.<br/><br/>My rating 4.5
Review by heathrel
27/01/2016
This is the second one of Horst's novels I have read, and I felt that all of the elements didn't come together as smoothly as they did in <u>The Hunting Dogs</u>. I did like Horst's discussion of the role of prison in society, which was carried out by the daughter throughout the course of the novel. Her<br/>interviews with people who had been in prison for long periods of time for murder were both interesting in themselves and as a concept. I felt at those points that Horst's background in policework made the novel much deeper than it would otherwise have been; I really wanted to know what his experiences told him about the effects of prison on inmates. Of course I suppose that I was assuming that William Wisting is, to some extent, speaking for the author, though it's an interesting question, then, to what extent his daughter Line also speaks for the author with her opinions about prison. If I could speak in Norwegian, that is what I would ask Jorn Lier Horst.