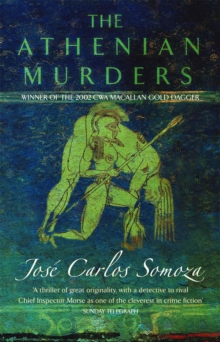 The Athenian Murders
Paperback / softback
Description
THE ATHENIAN MURDERS is a brilliant, very entertaining and absolutely original literary mystery, revolving round two intertwined riddles.
In classical Athens, one of the pupils of Plato's Academy is found dead. His idealistic teacher suspects that this wasn't an accident and asks Herakles, known as the 'Decipherer of Enigmas', to investigate the death and ultimately a dark, irrational and subversive cult.
The second plot unfolds in parallel through the footnotes of the translator of the text.
As he proceeds with his work, he becomes increasingly convinced that the original author has hidden a second meaning, which can be brought to light by interpreting certain repeated words and images.
As the main plot and also the translation of the manuscript advances, there are certain sinister coincidences, and it seems that the text is addressing him personally and in an increasingly menacing manner...
THE ATHENIAN MURDERS constitutes a highly compelling, entertaining and intelligent game about the different ways we can see and read reality, about our refusal to take things 'as they are' and our need to interpret hidden meanings into everyday life.
Information
Format: Paperback / softback
Pages: 320 pages
Publisher: Little, Brown Book Group
Publication Date: 05/12/2002
Category: Historical fiction
ISBN: 9780349116181