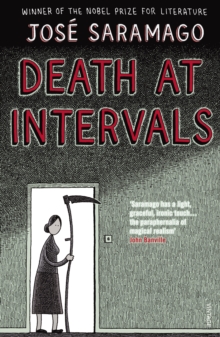 Death at Intervals
Paperback
Description
In an unnamed country on the first day of the new year, people stop dying.
Amid the general public, there is great celebration: flags are hung out on balconies and people dance in the streets.
They have achieved the great goal of humanity - eternal life.
Death is on strike. Soon, though, the residents begin to suffer. For several months undertakers face bankruptcy, the church is forced to reinvent its doctrine, and local 'maphia' smuggle those on the brink of death over the border where they can expire naturally.
Death does return eventually, but with a new, courteous approach - delivering violet warning letters to her victims.
But what can death do when a letter is unexpectedly returned?
Information
Format: Paperback
Pages: 208 pages
Publisher: Vintage Publishing
Publication Date: 01/02/2009
ISBN: 9780099502487
Other Formats
Paperback from £7.65
EPUB from £4.99
Free Home Delivery
on all orders
Pick up orders
from local bookshops
Reviews
Showing 1 - 3 of 3 reviews.
Review by AndrewBlackman
16/06/2015
I love the premise of this book. One day, in a particular country, people stop dying. They still get old, get sick, get mangled in car accidents, etc., but they can't die.At first this news is greeted with elation. It's the end of Death's age-old tyranny, the greatest fear suddenly removed. But then the complications begin. People still suffer, old people lie in bed on the verge of death but unable to cross over. Retirement homes go into crisis, as people continue to arrive but nobody leaves. Funeral homes and life insurance companies are also distraught, although the insurance people manage to land on their feet as always. Bishops and philosophers meet to discuss the implications of death's disappearance. The fear of death has long been the basis of morality and religion, after all.Meanwhile, some people take matters into their own hands. A family decides to put its terminally ill father out of his misery by taking him across the border into the neighbouring country where death is still operating as usual. This becomes a trend and then starts a whole industry, which is soon taken over by the mafia. Then, after a while, death reappears…It's an incredibly imaginative story, and well told. The style is very wordy, with some sentences stretching over pages, and multiple sub-clauses. The dialogue is also not separated by paragraphs or inverted commas, so it can be quite hard to follow sometimes. In general the wordiness works, simply because it is so well-written, but at times I wished he would just get on with it. I do have to put in a mention for the translator, Margaret Jull Costa, as well. This must have been a tough book to translate, and the fact that those long sentences are at all intelligible is a tribute to her ability.This is the second book I've read by 1998 Nobel Prize winner Jose Saramago, the other one being The Year of the Death of Ricardo Reis. I enjoyed this one more, perhaps because of the fascinating premise and the deft way in which it was handled, or perhaps simply because his style takes some getting used to. I'd definitely like to read more of his work now.
Review by ylferif
16/06/2015
Saramago has an interesting run on sentence style, but I found it does not make for "light" reading. Intriguing concept, but with some unresolved plot points. Our maybe I just didn't get it? Kudos to the translator; this couldn't have been easy.
Review by bodachliath
27/01/2016
A surreal modern parable full of imagination and quirky black humour. If, like me, you have read Saramago's earlier novel Blindness, this one has a similar structure. This one starts with the premise that in a small country, all death suddenly stops. The first half of the book explores the consequences of this, and the second half introduces the traditional personication of death, who realises that her work is not being monitored and starts to rebel. Saramago's style involves long convoluted sentences, but this is not a difficult book to read.