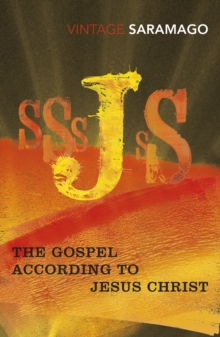 The Gospel According To Jesus Christ
Paperback
Description
Saramago's Jesus is the son not of God but of Joseph.
Mary Magdalene is his lover not his convert. In the wilderness he tussles not with the Devil - a kindly and necessary evil - but with God, a fallible, power-hungry autocrat. And he must die not for the sins of the father but for the sins of the Father.
By investigating these simple inversions Saramago has woven a dark parable; a secular gospel of astonishing richness and depth. `An original, wild and beautiful book' Times Literary Supplement
Information
Format: Paperback
Pages: 352 pages
Publisher: Vintage Publishing
Publication Date: 02/09/1999
ISBN: 9781860466847
Free Home Delivery
on all orders
Pick up orders
from local bookshops
Reviews
Showing 1 - 3 of 3 reviews.
Review by koeniel
16/06/2015
The story has been written many times, and inspired many stories. Jose Saramago's is unique though. Here the antagonist is God, and Jesus is the unwilling accomplice. God is portrayed as a clever megalomania who wants to propagate his influence outside the Jewish community, to the whole world. Saramago's Satan, portrayed as a shepherd who looked like God, was even more likeable than his God. God made a covenant with his son, Jesus, who also had a human father, Joseph the carpenter, who in this story also died on the cross. He promised power and glory to Jesus, which would be given after his death, if he would die for God's cause. Not that Jesus had a choice in the matter. Like thousands of lambs led to slaughter in the Jewish Temple of that time, he did not have much say. Unwillingly he used the power God gave him to perform miracles and cure people. God told Jesus what would happen to his friends and future followers, all the horrible deaths and blood that would be sacrificed in his name after his death, as God's church propagate throughout the world. Reluctant Jesus tried to take matter in his own hands and trick God out of the covenant to save the world from all these horrible deaths. It is a very engaging story, and a very interesting perspective (to treat God as the antagonist). It is doubly interesting to me. I was born and raised in the Catholic faith, but even though I've strayed far since then and formed my own thoughts about what religion and spirituality are, I still winced many times reading this story and unconsciously still consider the story rather blasphemic. The power of religious upbringing! No wonder Salman Rushdie received a lot of death threats.The book is also very interesting in its style of writing. All the conversations are written without quotes, so the tones feel
Review by mrlady
16/06/2015
The same way Lolita is a little more beautiful because it doesn't exactly translate into perfect English, this book is spell-binding in its story of the life of Christ, through his eyes. It's blof and brave in the most glorious off-the-cuff, sarcastic way. If this were the Bible, I think a lot more people would have read it.
Review by petterw
27/08/2015
José Saramago is an atheist, but his version of the story of Joseph, Mary and Jesus is written with compassion and respect for the historic characters. This is not as blasphemous as it might apprear. I don't know what to make of everything I read, though. It is a fascinating tale of Jesus' birth and early upbringing, half realistic half mythical, but with a believable realism at heart. Joseph's dilemma of whether to save his son or save all little boys in Bethlehem is among the most potent parts of the novel, pondering if sin, guilt and shame can be inherited. Mary is not much of a goddess in Saramago's version, but nevertheless a believable character, as is Mary Magdalene, who is Jesus' lover and most loyal companion. Jesus' rebellion against the Jewish God and Devil is weird, but also where it gets most interesting. The conversation between God, Satan and Jesus out on the Genesaret sea, gives a chilling description of everything that later happens in the name of religion, particularly the Christian religion, but also Islam, an important reminder for contemporary readers of how religion has stolen so many lives and created so much misery, so many wars, and is still the main reason why this world is being torn apart even today. I believe Saramaga's fascination with the setting and the story, is because this is where it all started, the nucleus of the troubles. In a kind of contrafactual way he at leas indicates what could have been avoided. For me, The Gospel According to Jesus Christ, is Saramago's most complicated book, still very readable.