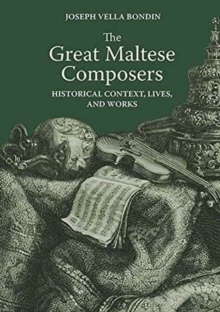 The Great Maltese Composers : Historical Context, Lives and Works
Hardback
Description
The book has been written for a general readership, and the author's aim has been to organise the material in a way that makes clear the way in which Maltese music has developed from its earliest manifestation as plainchant in its medieval cathedral in the old capital of Mdina to its post-Independence manifestations in the second half of the twentieth century; throughout, particular attention has been paid to the development of church music and opera.
The accent is, of course, on those composers who have contributed most significantly to this progress, for it is the composers themselves who are the fulcrum of any historical development in music.
Throughout, an attempt has been made to humanize the composers as much as possible by giving an awareness of what they felt and experienced, for surely any man's music is a reflection of himself, as conditioned by the era and events in which he was living.
As is the normal consuetude for books on similar themes, every attempt has been made to render each chapter as self-contained as possible so that it can be read and understood without undue reliance on other chapters.
The author has included many appendices that are intended to amplify the text on matters whose more detailed consideration within the pertinent chapter would have been to the detriment of the free-flow and continuity of the main exposition.
They also deal with certain topics on ancillary and more peripheral aspects of Maltese music - such as the rite of Tenebrae; the mechanics of a benefit concert; the use of the piano in the Holy Week liturgy; the Camera degli Autori e Compositori di Musica Maltesi - on which little information has so far been available.
Based on the author's extensive and continuing research, the book provides important new material and perspectives on the achievements of Maltese composers and their contribution to the development of music in Europe particularly over the last four centuries.
Information
Format: Hardback
Pages: 864 pages, b/w
Publisher: Midsea Books Ltd,Malta
Publication Date: 01/01/0001
Category: Music
ISBN: 9789995782771
Free Home Delivery
on all orders
Pick up orders
from local bookshops