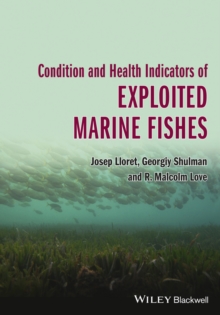 Condition and Health Indicators of Exploited Marine Fishes
Hardback
Description
This important and informative new book outlines and discusses details of the basic principles and methods that are central to any study of fish condition, from a fish ecology and fisheries biology perspective.
Condition and Health Indicators of Exploited Marine Fishes describes the potential capacities of condition indicators, providing examples showing the use of these indicators to solve practical problems in connection with fish ecology and fisheries research.
By focusing on wild fish populations, the book complements the increasing number of scientific works that are contributing to show how fish condition studies are key to reveal problems in marine aquaculture, the effects of pollution, fish disease, and the importance of fish in human nutrition and medicine.
Condition and Health Indicators of Exploited Marine Fishes provides a comprehensive introduction to the study of fish condition that will assist advanced undergraduate and postgraduate students, researchers and professionals, working in marine ecology and biology, fisheries biology, environmental sciences and fish pathology. All universities and research establishments where biological and environmental sciences, fisheries and aquaculture are studied and taught should have copies of this book on their shelves.
Information
Format: Hardback
Pages: 262 pages
Publisher: John Wiley & Sons Inc
Publication Date: 24/01/2014
Category: Fisheries & related industries
ISBN: 9780470670248