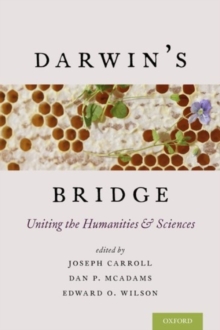 Darwin's Bridge : Uniting the Humanities and Sciences
Hardback
Description
Darwin's Bridge: Uniting the Humanities and Sciences explores the meaning of consilience and considers the unity of human evolution, human nature, social dynamics, art, and narrative.
The term "consilience" in its modern usage was first established by co-editor Edward O.
Wilson in his 1998 book, Consilience: The Unity of Knowledge.
Wilson's original thesis had two parts: that nature forms a unitary order of causal forces, hierarchically organized,and that scientific knowledge, because it delineates nature, also forms a unitary order, providing a unity of knowledge across a variety of fields.
Bringing together cutting-edge scientists and scholars across this range, this volume gives an expert account of consilience and makes it possible to see how far we havecome toward unifying knowledge about the human species, what major issues are still in contention, and which areas of research are most likely to produce further progress.
The essays in Darwin's Bridge raise and give substantial answers to questions such as: What is the precise trajectory of human evolution?
What were the main factors driving the evolution of the human brain and human motivational system?
How closely does life among contemporary hunter-gatherers mirror conditions of ancestral life?
In what ways have genes and culture co-evolved, reciprocally influencing one another?
How does selection at the level of individuals interact with selectionamong groups?
How complete and adequate are our current models of human nature?
How well do these models integrate ideas about human universals, individual identity, and specific cultures?
How well can we now delineate the causal chains leading from elementary principles of evolutionary biology to specificallyhuman forms of social organization, individual identity, and imaginative culture?
Are human proclivities to make and consume works of art by-products of adaptations, or are they themselves adaptations?
Can evolutionary thinking guide us in giving close analytic and explanatory attention to individual works of art?
Information
Format: Hardback
Pages: 384 pages
Publisher: Oxford University Press Inc
Publication Date: 15/08/2016
Category: Anthropology
ISBN: 9780190231217
Free Home Delivery
on all orders
Pick up orders
from local bookshops