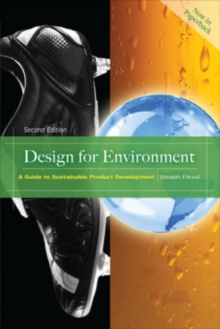 Design for Environment
Paperback / softback
Description
Proven methods for achieving environmental excellence while increasing profitability"If your goal is to design and develop environmentally sustainable products that also drive shareholder value, then this book is a must read." --Stuart L.
Hart, S.C. Johnson Chair in Sustainable Global Enterprise, Cornell University"A comprehensive and inspiring guide that provides a powerful case for integration of environmental principles into product development ...
Essential reading for any organization putting DFE into practice." --Ken Strassner, Vice President, Global Environment, Safety, Regulatory and Scientific Affairs, Kimberly-Clark Corporation"Joseph Fiksel has produced a masterful book that not only powerfully argues for Design for Environment, but also provides the roadmap and real-life examples that prove the point.
This book arrives not a moment too soon for a stressed planet.
Industry has the opportunity to re-think how we design, produce, sell and dispose of products, and this book provides the tools and best practices to accomplish a new and improved way of doing business." --Jim Thomas, Vice President, Corporate Social Responsibility, JCPenney"A must read for all practitioners of a Design for Environment approach. This book makes the most compelling case yet for taking a more integrated and holistic approach to DFE-the bottom line! Green initiatives must increase profitability to be truly sustainable, and Dr. Fiksel provides the blueprint for how global companies are enhancing profits and winning in the marketplace by designing their way to competitive advantage." --Jim Lime, Vice President, Environment, Health & Safety, ConAgra Foods"At a time when many companies are wrestling with the challenges of energy and environmental management, Design for Environment provides a unique resource-a clear and comprehensive guide to the tools and best practices that are essential for any business that aspires to be sustainable.
Innovation will be the key to addressing global climate change and assuring future prosperity, and this book illuminates the path forward." --Dennis Welch, Executive Vice President, Environment, Safety & Health and Facilities, American Electric PowerBased on successful green strategies practiced at dozens of major corporations, Design for Environment, Second Edition, offers a business rationale for developing sustainable products and processes, as well as a comprehensive toolkit for practicing Design for Environment (DFE) in the context of product life-cycle management.
Insights on how DFE can be seamlessly integrated into existing business practices are also included.
This unique resource reveals how environmental innovation creates business value and helps companies to meet global energy and environmental challenges. Features in-depth case studies of DFE applications by industry leaders such as:Alcoa * American Electric Power * Caterpillar * Coca-Cola * ConAgra Foods * Dow Chemical Company * DuPont * Eli Lilly * Ford Motor Company * General Motors * Hewlett-Packard * Intel * JCPenney * Johnson & Johnson * Kimberly-Clark * McDonald's * Owens Corning * Patagonia * 3M Company * Xerox
Information
Format: Paperback / softback
Pages: 432 pages
Publisher: McGraw-Hill Education - Europe
Publication Date: 26/08/2011
Category: Research & development management
ISBN: 9780071776226
Free Home Delivery
on all orders
Pick up orders
from local bookshops
Also by Joseph Fiksel