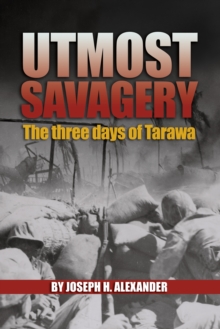 Utmost Savagery : The Three Days of Tarawa
Paperback / softback
Description
On November 20, l943, in the first trial by fire of America's fledgling amphibious assault doctrine, five thousand men stormed the beaches of Tarawa, a seemingly invincible Japanese island fortress barely the size of the Pentagon parking lots (three-hundred acres!).
Before the first day ended, one third of the Marines who had crossed Tarawa's deadly reef under murderous fire were killed, wounded, or missing.
In three days of fighting, four Americans would win the Medal of Honor and six-thousand combatants would die.
The bloody conquest of Tarawa by the newly created Central Pacific Force provided the first trial by fire of America's fledgling doctrine of forcible amphibious assault against a heavily fortified objective. Described by one veteran as"a time of utmost savagery," the incredibly violent battle raged for three days and left 6,000 men dead in an area no bigger than the Pentagon and its parking lots.
Utmost Savagery is the definitive account of Tarawa and reflects years of research into primary sources, tidal records, new translations of Japanese documents, and interviews with survivors.
A Marine combat veteran himself, Col. Alexander presents a masterful narrative of the tactics, innovations, leadership, and weapons employed by both antagonists.
The book portrays the battle's full flavor: the decisions, miscalculations, extreme risks, lost opportunities, breakthroughs, blunders, and vital lessons learned.
Alexander describes the landing plan and its assumptions, analyzes the freakish"tide that failed," and follows the amphibious ship-to-shore assault as it encounters the exposed reef and hellish Japanese fire.
He renders a professional salute to Japanese Admiral Keiji Shibasaki and his well-trained Special Naval Landing Forces who defended Tarawa virtually to the last man.
Above all he highlights the courage and adaptability of the Marine small-unit leaders who kept the assault moving throughout 76 hours of unmitigated horror.
Information
Format: Paperback / softback
Pages: 328 pages, 42 b/w photos; 19 line drawings
Publisher: Naval Institute Press
Publication Date: 01/09/2008
Category: History of the Americas
ISBN: 9781591140030
Free Home Delivery
on all orders
Pick up orders
from local bookshops