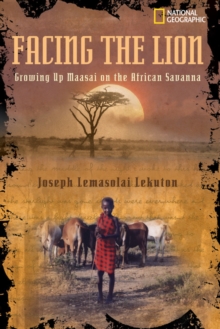 Facing the Lion
Paperback
Part of the Biography series
Description
Joseph Lemasolai Lekuton gives American kids a first-hand look at growing up in Kenya as a member of a tribe of nomads whose livelihood centres on the raising and grazing of cattle. Readers share Lekuton's first encounter with a lion, the epitome of bravery in the warrior tradition.
They follow his mischievous antics as a young Maasai cattle herder, coming-of-age initiation, boarding school escapades, soccer success, and journey to America for college.
Lekuton's riveting text combines exotic details of nomadic life with the universal experience and emotions of a growing boy.
Information
Format: Paperback
Pages: 144 pages
Publisher: National Geographic Kids
Publication Date: 11/10/2005
ISBN: 9780792272977
Free Home Delivery
on all orders
Pick up orders
from local bookshops
Reviews
Showing 1 - 5 of 10 reviews.
Previous | Next
Review by JohnnyBrooks
16/06/2015
Joseph Lemasolai Lekuton is from Northern Kenya. He was born into the Ariaal subgroup of the Maasai, and lived a nomadic lifestyle. This book tells his story from birth, where he immediately began his life as a nomad, till completing university in the U.S.A.A fascinating story filled with lots of insight into the Maasai culture. It was written with a younger reader in mind, and is truly a very easy read. Joseph will not win any literary awards for this book, or at least should not, but he is adept at story telling. I particularly enjoyed his story of meeting President Daniel Arap Moi.This is the first book about Kenya I have read, despite living here for five years now. Perhaps more will be in my future reading list.My biggest complaint is that he did not challenge the deficiencies of his culture. I wish he would have talked more about the inequality that exist between the sexes. He did mention that girls often marry men 15 years older than themselves. However he failed to mention that those girls are very often children when they marry those older men.A good book for the kids, as long as some follow up is added on gender issues, and the rights of children.
Review by _Zoe_
16/06/2015
This is the autobiography of a Maasai man with a Western education. It was written for children, and focuses on Lekuton's childhood experiences. He comes from a family of nomadic cow-herders, but Kenyan law required each family to send one child to elementary school. Lekuton was the one chosen, and he ended up enjoying his studies and excelling at school. Throughout the book, he emphasizes the tensions involved in belonging to two completely separate worlds. He wants to preserve his Maasai heritage while at the same time taking advantage of the opportunities afforded by education, and I found that his situation was incredibly thought-provoking. It's generally taken as a foregone conclusion that education is a good thing that should be available to as many people as possible, but in this story it wasn't so clear-cut. The Maasai are shown as a people capable of surviving on their own, with their own culture and way of life, and I found it a bit disturbing that they were forced to send one of their children off to school run by Christian missionaries, where they were taught Christian values, wore Western-style school uniforms, and were baptized and given Christian names. Lekuton himself fully appreciates his education and the doors that it opened to him, but I still find myself wondering about the changes that are being imposed on traditional cultures. This is a good thing, since I love a book that makes me think.I was also fascinated by the descriptions of Maasai culture itself, something that I had previously known very little about. I only wish that this book had been longer and more detailed--I know, it's for children, but still. This book has left me intrigued, and I'll probably be seeking out more books about the Maasai. I'd strongly recommend this one to just about anyone; the one good thing about its length is that there's no excuse not to read it!
Review by waldhaus1
16/06/2015
Simple, but very powerful tale of what it means to grow up Masai
Review by alexandrose
16/06/2015
Joseph is a boy from Keny and he is a boy who met a Lion and he ran from it with his brothers and some warriors. Later he goes to a school and then he goes to a boarding school in Nakuru and becomes a key player in their football team they win a great match and the president sees that and lets him later go to work in a bank. He meets a person from St. Lawrence University and later goes there and he becomes a teacher in McLean. I recommen this book for people who likes the wild and some stories of people on the planes.
Review by adamjohn
16/06/2015
 Lekuton, a six year old Maasai boy, lives in the African Savanna with his family. Then one day, he has to go to school. He hates it at first, but then he realizes that you have to be smart to have a good life. He wanted to go to a good college. But he has a tough time at school. Can he survive?