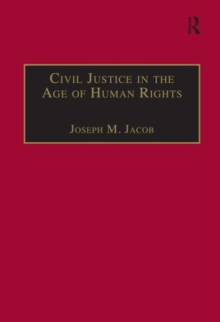 Civil Justice in the Age of Human Rights
Hardback
Description
The end of the last century witnessed two major events in the field of civil justice: the Civil Procedure Rules (CPR) came into force and the Human Rights Act (HRA) gave effect to the European Convention on Human Rights.
This volume assesses the effect of the Act and attempts to reconcile the expediency and efficiency essential to modern civil justice with the need for recognition of human dignity and equality inherent to human rights. The book is primarily concerned with the effects of the HRA on civil procedure and, in particular, the effects on the CPR.
It examines the view that the new civil procedure regime could be susceptible to HRA challenges.
More specifically, the work discusses whether there are differences between the CPR and the ECHR ideas of what constitutes a fair trial or just decision and between their views of proportionality.
The study notes the differences between common and civil law and discusses whether there is any coming together with other European systems. This book will be a valuable resource for academics and researchers as well as lawyers and judges with an interest in the practical implications of the HRA.
Information
Format: Hardback
Pages: 296 pages
Publisher: Taylor & Francis Ltd
Publication Date: 28/01/2007
Category: International human rights law
ISBN: 9780754645764
Other Formats
Paperback / softback from £39.19
EPUB from £39.59
PDF from £39.59