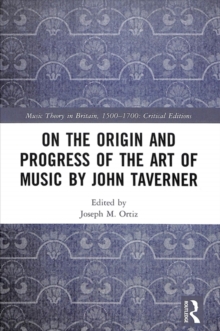 On the Origin and Progress of the Art of Music by John Taverner
Hardback
Description
John Taverner's lectures on music constitute the only extant version of a complete university course in music in early modern England. Originally composed in 1611 in both English and Latin, they were delivered at Gresham College in London between 1611 and 1638, and it is likely that Taverner intended at some point to publish the lectures in the form of a music treatise.
The lectures, which Taverner collectively titled De Ortu et Progressu Artis Musicae ("On the Origin and Progress of the Art of Music"), represent a clear attempt to ground musical education in humanist study, particularly in Latin and Greek philology.
Taverner's reliance on classical and humanist writers attests to the durability of music's association with rhetoric and philology, an approach to music that is too often assigned to early Tudor England.
Taverner is also a noteworthy player in the seventeenth-century Protestant debates over music, explicitly defending music against Reformist polemicists who see music as an overly sensuous activity. In this first published edition of Taverner's musical writings, Joseph M. Ortiz comprehensively introduces, edits, and annotates the text of the lectures, and an appendix contains the existing Latin version of Taverner's text.
By shedding light on a neglected figure in English Renaissance music history, this edition is a significant contribution to the study of musical thought in Renaissance England, humanism, Protestant Reformism, and the history of education.
Information
Format: Hardback
Pages: 166 pages, 8 Illustrations, black and white
Publisher: Taylor & Francis Ltd
Publication Date: 13/09/2018
Category: Theory of music & musicology
ISBN: 9781138633698
Other Formats
Paperback / softback from £34.25
PDF from £33.74
EPUB from £33.74