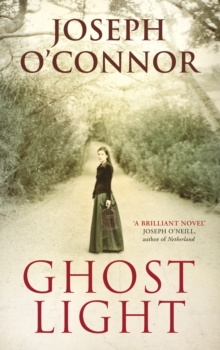 Description
It's Dublin 1907, a city of whispered rumours. A young actress begins an affair with a damaged older man, the leading playwright at the theatre where she works.
Rebellious and flirtatious, Molly Allgood is a girl of the inner city tenements, dreaming of stardom in America.
She has dozens of admirers but in the backstage of her life there is a secret.
Her lover, John Synge, is a troubled genius, the son of a once prosperous landowning family, a poet of fiery language and tempestuous passions.
Yet his life is hampered by convention and by the austere and God-fearing mother with whom he lives.
Scarred by a childhood of loneliness and severity he has long been ill, but he loves to walk the wild places of Ireland.
The affair, sternly opposed by friends and family, is turbulent, sometimes cruel, often tender.
Many years later, an old woman makes her way across London on the morning after a hurricane.
Christmas is coming. As she wanders past bombsites and through the city's forlorn beauty, a snowdrift of memories and lost desires seems to swirl. She has twice been married: once widowed, once divorced, but an unquenchable passion for life has kept her afloat as her dazzling career has faded.
A story of love's commitment, of partings and reconciliations, of the courage involved in living on nobody else's terms, "Ghost Light" is a profoundly moving and ultimately uplifting novel.
Information
Format: Hardback
Pages: 256 pages
Publisher: Vintage Publishing
Publication Date: 03/06/2010
ISBN: 9780436205712
Other Formats
Paperback from £6.09
EPUB from £3.99
CD-Audio from £15.45
Free Home Delivery
on all orders
Pick up orders
from local bookshops
Reviews
Showing 1 - 3 of 3 reviews.
Review by miss_read
16/06/2015
A gorgeous, poignant, touching, sad, moving and beautiful telling of the relationship between JM Synge and Molly Allgood. O'Connor doesn't waste a single word in this beautifully-written book.
Review by wigsonthegreen
16/06/2015
A Ghost Light is a light left on in a theatre overnight by which the ghosts perform their plays. It makes an apt title for this novel which is loosely based on the doomed true-life relationship between the Irish playwright J.M. Synge and the much younger actress Molly Allgood. Synge dies from cancer at an early age but his ghost lives on through Molly who narrates her own poignant story. Her strong character is very memorable as is the writing itself which is beautiful, and so loaded with vernacular wit and colourful phrasing that should be read at a measured pace in order to fully savour the language. Highly recommended!
Review by elkiedee
16/06/2015
This novel opens in London in 1952. Molly is an Irish actress in her 60s, who spends most of her time remembering her younger days over a drink or two. She acted at the Abbey Theatre, where she and John fell in love. John Synge was one of the co-founders of the theatre and wrote plays including The Playboy of the Western World. When he died of cancer in 1909 aged only 37, he was engaged to an actress called Molly Allgood, stage name Maire O'Neill. O'Connor draws on what is known about the facts of their lives and on published letters from Synge to Molly (her letters to him don't survive) in this novel, but he admits in Acknowledgements and Caveat at the back of the book that he took liberties with the truth and made up a lot of Molly's story completely. I found the story of their romance moving though sad. Neither of their families approved - he was much older than her, but more importantly, he was the son of a wealthy Anglo-Irish Protestant family, and she was a working class Catholic with what was perceived to be a rather immoral job. These prejudices were to some extent shared by Synge's fellow owners of the theatre, W B Yeats and Lady Augusta Gregory, too (and they might have also worried about the impact on the business of the theatre and its performances). I think that only having some factual records is an advantage for the novelist in this story, it gives him free rein to create his two major characters the way he chooses to. They are flawed but sympathetic. John finds it difficult emotionally or financially to break away from his mother and incur her wrath by openly marrying Molly. Despite all the difficulties though, the scenes of them together including a holiday together in the countryside, depict a real love affair with warmth and wit, important in making them sympathetic not pitiful characters (especially Molly). The 1908 story takes place over a year or so, the 1952 story is set over just a few days. Molly's later existence in postwar London is rather bleak and pitiful - she has been married, widowed and divorced, her son has been killed and her daughter has her own life and a husband who disapproves of his mother in law's drinking, and she has fallen out with them. She is now scrabbling around trying to scrape together a bit of money, mainly for the drink. So most of the significant people in her life are dead, estranged or both. I felt sad to read about a character who didn't seem to have moved on emotionally from her early life; though she continued to act, was married twice and had two children, she is still living in her long ago past. Some readers might find the style of this novel offputting. The narrative jumps around in time and in style. Although much of the novel is in the third person, it opens with a chapter in second person. I wouldn't have thought this would work well, but here for me it did, it drew me into the older Molly's thoughts and feelings. I thought this was a sad but moving story, and would recommend it to readers who like stories of character and feeling rather than fast paced action. I would also like to read some of Synge's work, or see a performance of one of his plays.