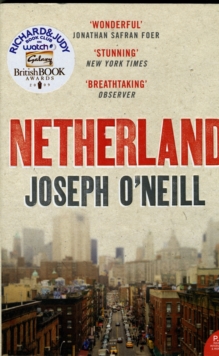 Description
In early 2006, Chuck Ramkissoon is found dead at the bottom of a New York canal.In London, a Dutch banker named Hans van den Broek hears the news, and remembers his unlikely friendship with Chuck and the off-kilter New York in which it flourished: the New York of 9/11, the powercut and the Iraq war.
Those years were difficult for Hans - his English wife Rachel left with their son after the attack, as if that event revealed the cracks and silences in their marriage, and he spent two strange years in New York's Chelsea Hotel, passing stranger evenings with the eccentric residents.Lost in a country he'd regarded as his new home, Hans sought comfort in a most alien place - the thriving but almost invisible world of New York cricket, in which immigrants from Asia and the West Indies play a beautiful, mystifying game on the city's most marginal parks.
It was during these games that Hans befriends Chuck Ramkissoon, who dreamed of establishing the city's first proper cricket field.
Over the course of a summer, Hans grew to share Chuck's dream and Chuck's sense of American possibility - until he began to glimpse the darker meaning of his new friend's activities and ambitions.`Netherland' is a novel of belonging and not belonging, and the uneasy state in between.
It is a novel of a marriage foundering and recuperating, and of the shallows and depths of male friendship.
With it, Joseph O'Neill has taken the anxieties and uncertainties of our new century and fashioned a work of extraordinary beauty and brilliance.
Information
Format: Paperback
Pages: 300 pages
Publisher: HarperCollins Publishers
Publication Date: 01/01/2009
ISBN: 9780007275700
Other Formats
EPUB from £5.49
eAudiobook MP3 from £35.37
Free Home Delivery
on all orders
Pick up orders
from local bookshops
Reviews
Showing 1 - 5 of 12 reviews.
Previous | Next
Review by Opinionated
16/06/2015
O'Neill's Blood Dark Track is one of the most interesting books I've read, so I expected a lot from Netherland - but for me, it didn't really deliver. One of the problems is that for a book structured around the idea that the ritual (rather than the sport) of cricket can be both a social unifier and a sea of calm in the emotional maelstrom of post 9/11 America, the narrator err....isn't very convincing on cricket. Its as though Death in the Afternoon was written by someone who hadn't seen a bullfight. This might be a bit harsh - but it seemed to me like a description of cricket written for the benefit of people of who don't understand it (ie Americans) rather than those who do (everyone else in the former British empire). As someone who does understand cricket, and living in a mainly non cricket playing country, missing its social element, I couldn't really believe in the narrator's voice - and so couldn't really believe in this central principle. So although other elements of the book - the characters at the Chelsea Hotel, the relationship with the over reaching Ramkissoon, the conflict between cold fish narrator and his politically awakening wife, are interesting, I ultimately couldn't care about them So a good idea, well written, which ultimately didn't quite work for me, however much I wanted it to. But worth reading
Review by bibliobibuli
16/06/2015
The novel won a great deal of critical praise and was longlisted for last year's Booker Prize, as well as being nominated one of the ten best novels of 2008 by The New York Times and sweeping up the Pen/Faulkner Award. Obama was apparently also reading it.The cover is decorated with words lifted from reviews - Wonderful (Jonathan Safran Foer), Stunning (New York Times), Breathtaking (Observer). I felt a measure of guilt most of the way through the novel that I felt some ambivalence towards it. Most of the way through I just felt I couldn't get a handle on it, there didn't seem enough that was cohesive to hold it together, and I longed for that simple, old-fashioned thing - a good story, to take over.Netherland is a pretty unusual book : it's a novel about New York but focuses more on immigrant communities than the skyscrapers of Manhattan; it's a post-9/11 novel in which the incident is hardly mentioned (yet casts an enormous shadow); and its a novel about cricket set in a country where there sport is scarcely played at all.Financial analyst Hans van der Broek finds himself alone in New York when his wife Rachel leaves him to go back to London, and finds refuge in cricket, played almost entirely by immigrants, mainly Asian and from the Caribbean. He becomes friendly with Chuck Ramkissoon, the "oddball umpiring oracle", a wheeler-dealer businessman with dubious connections who takes him under his wing. Later Chuck is found murdered - his wrists handcuffed and his body thrown into the Gowanus Canal.But if if the reader expects the solving of and fallout from the murder to drive the story, this isn't the case at all. O'Neil actually says in the notes that accompany the novel that he actually abandoned a first draft because it was: ... undermined by a preoccupation with plot.And then there is Hans marriage to Rachel. We're never quite sure why she decides to leave him and take their son, Jake, back to London, and why she can't get back together with him. We're not privy to her thoughts and we aren't given the opportunity to warm to her, while Hans who comes across as ineffectual and inert. He drifts and allows matters to take their course, rather than taking any kind of decisive action. It isn't surprising that he finds himself following in the wake of the charismatic Chuck.Yet O'Neill catches Han's depression and sense of dislocation most convincingly, in the first person narration. He employs an almost stream-of-consciousness style where one memory flows back into another (very much in the style of John Banville in The Sea - I don't think that it is coincidence that O'Neill is also an Irish author), the novel moving between layers of time and recollection. I was also reminded very strongly - perhaps because of the introspection and aching melancholy - of Richard Ford's The Sportswriter : we get the sense of a real man doing his best to make sense of his circumstances. There are some beautifully observed scenes of New York, especially those which centered on his quirky neighbours in the Chelsea Hotel (where the author actually lives), and his visits to Brooklyn. I appreciate too what I learned about cricket (especially how pitch conditions and the weather affect play, and about how it is a game of perspectives - knowing when to switch from the wide view to the telescopic).But I'm still not sure what to tell you about whether I enjoyed the novel or not. I still feel I'm pulling together the threads and making sense of it, but I suspect that this might be one I want read again.
Review by jintster
16/06/2015
This is a rather curious and disjointed novel. The story is straightforward enough, a Dutch oil analyst has moved to New York with his English wife and young son. His marriage slides away from him for reasons he can't grasp and his family move back to London. He tries to find some meaning in life by playing cricket with expatriate West Indians and sub-contintentals forming a strong if strange relationship with one of them who dreams of bringing cricket back to America. As a cricket nut this book should have been right up my street but it never really engaged me. O'Neill's narrative swoops around all over the place so that, for example, one jumps from the present to the past and then to the future where he is talking to some one about the past. The book is character, rather than plot-driven, and the confused narrative perhaps mirrors the difficulties the hero has in understanding himself and his relatioships. O'Neill is partially successful here - we do get a good insight into a fundamentally decent but emotionally stilted man. On the otehr hand this is at the expensive of the other characters, particularly the wife, whose actions appear incomprehensible.
Review by mykl-s
16/06/2015
 -so much in one novel-made me regret that cricket is not our national sport
Review by tbrennan1
16/06/2015
Excellent novel set in New York post 9/11 with a background of Cricket which I am sure is alien to most Americans.The desolate background in which the hero struggles with his marriage and remembers his childhood in the Netherlands add to the mystery of his friendship with another immigrant in a city and country coming to grips with the tragedy of the World Trade Center collapse.The novel was hard to put down and held the attention of the reader until the ending.The novel has dark undertones which manifest itself in the character of Chuck and the tragic end of his vision for a revival of cricket in New York.