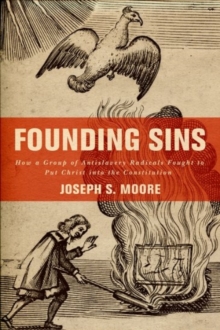 Founding Sins : How a Group of Antislavery Radicals Fought to Put Christ into the Constitution
Hardback
Description
The United States was not founded as a Christian nation, since slavery was in the Constitution but Jesus was not.
The Covenanters, America's first Christian nationalists, berated the Founding Fathers and challenged generations of Americans with this message.
Having once ruled Scotland as a part of a Presbyterian coalition, they longed to convert America to a holy Calvinist vision in which church and state united to form a godly body politic.
Their unique story haslargely been submerged beneath the histories of the events in which they participated and the famous figures with whom they interacted, making them the most important religious sect in American history that no one remembers. For more than two hundred years Covenanters tried to create a Christian America by amending the Constitution to acknowledge God.
Despite being one of North America's smallest religious sects, they found their way into every major revolt.
They were God's rebels-just as likely to be Patriots against Britain as they were to be Whiskey Rebels against the federal government.
Along the way, they helped American secularists create their own identity as liberals, and demonstrated to Protestantfundamentalists the acceptable outer limits of moral reform.
As the nation's earliest and most avowed abolitionists, they also had a significant influence on the fight for emancipation. In Founding Sins, Joseph Moore examines this forgotten history, and explores how Covenanters profoundly shaped American's understandings of the separation of church and state.
He shows that while modern arguments about America's Christian founding often make their case from the right, the Covenanter legacy flies in the face of that claim.
They fought for an explicitly Christian America in the midst of what they saw as a secular state that failed the test of Christian nationhood.
Thoughtheir attempts to insert God into the Constitution ultimately failed, Covenanters set the acceptable limits for religion in politics for generations to come.
Information
Format: Hardback
Pages: 232 pages
Publisher: Oxford University Press Inc
Publication Date: 01/12/2015
Category: History of the Americas
ISBN: 9780190269241
Free Home Delivery
on all orders
Pick up orders
from local bookshops