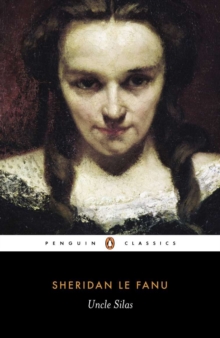 Uncle Silas : A Tale of Bartram-Haugh
Paperback
Description
One of the most significant and intriguing Gothic novels of the Victorian period and is enjoyed today as a modern psychological thriller.
In UNCLE SILAS (1864) Le Fanu brought up to date Mrs Radcliffe's earlier tales of virtue imprisoned and menacedby unscrupulous schemers. The narrator, Maud Ruthyn, is a 17 year old orphan left in the care of her fearful uncle, Silas.
Together with his boorish son and a sinister French governess, Silas plots to kill Maud and claim her fortune.
The novel established Le Fanu as a master of horror fiction.
Information
Format: Paperback
Pages: 528 pages
Publisher: Penguin Books Ltd
Publication Date: 07/12/2000
Category: Classic fiction (pre c 1945)
ISBN: 9780140437461
Other Formats
Paperback / softback from £16.55
Hardback from £23.49
Paperback from £19.95
Free Home Delivery
on all orders
Pick up orders
from local bookshops
Reviews
Showing 1 - 5 of 5 reviews.
Review by bcquinnsmom
16/06/2015
Probably my favorite of all of the Le Fanu novels. I first got interested in this author when, many years back, I saw this dramatized on PBS. Peter O'Toole played a very evil Uncle Silas.Another Victorian gothic involving not so nice relatives, an evil governess and a damsel in distress. HIGHLY recommended!
Review by pamelad
16/06/2015
Leisurely horror story, first published in 1864. Uncle Silas doesn't appear in the flesh until page 200, but we know his story by then. The younger son of an ancient family, the dissolute Silas gambled away his inheritance. A gambler and money lender was found with his throat cut and Silas was accused of his death.The heroine is the daughter of Silas's older brother Austin, the eccentric and reclusive heir to the family fortune. Austin has always believed in his brother's innocence and stakes his daughter's future on proving it.An early psychological novel and possibly the first locked room mystery, Uncle Silas is an entertaining and interesting read.
Review by JBD1
16/06/2015
I've been reading and listening to much related to M.R. James recently, and one of the things that frequently comes up is James' enjoyment of J. Sheridan Le Fanu's works, so naturally I had to seek those out as well! The first I chose was <i>Uncle Silas</i> (originally published 1864; I read the Penguin Classics edition, edited by Victor Sage). This may be the first Le Fanu book I picked up, but it certainly won't be the last. This is a darkly suspenseful tale drawing on the grand Gothic tradition of Ann Radcliffe while incorporating contemporary concerns about Swedenborgian thought and the sensationalistic style popularized by Wilkie Collins.With a cast of endlessly fascinating characters, from the innocent narrator Maud Ruthyn to the mysterious Uncle Silas to bumptious cousin Milly and detestable Madame de la Rougierre, plus pacing that serves to draw in the reader and make you want more with every passing chapter as the story builds toward the inevitable height, this was a real treat. Locked-room murders, evil governesses, romantic intrigues, creepy old houses populated by ghosts ... Le Fanu's story uses all these and more, to grand effect.
Review by bunwat
16/06/2015
It was fun for me to get an idea of what an actual thrills and chills gothic novel was like, to understand what Austen was parodying in Northanger Abbey and what all those girls who get criticised for reading novels instead of improving their minds with collections of sermons were probably reading to one another. <br/><br/>Its a pretty interesting story too, with a fair number of thrills, although the middle section lags badly and the heroine is yet another of those annoying fool women who run around helplessly fluttering when confronted with danger. Perhaps one of the originals on which so many many more will be based. <br/><br/>If you have the patience for Victorian longwindedness and a lot of fainting, handwringing and general learned helplessness, there is some fun to be had here.
Review by MichelleCH
16/06/2015
At first I wasn't that interested in where the storyline was taking me. Maud the innocent daughter of Austin Ruthyn has a nutty French governess with ulterior motives. And of course there is a will and lots of land with money. But when Austin dies suddenly and Maud is sent to live with her Uncle Silas the story begins to really gather steam. We find out that Silas has been implicated in the past for murder, and his behavior and family are incredibly odd.There house is remote and every character around is the strangest that can be imagined. So what is a Victorian innocent such as Maud to do? Her lack of power and resources as a ward of Uncle Silas makes for a twisty, suspenseful story.
Also by Joseph Sheridan Le Fanu | View all