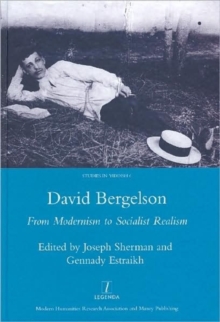 David Bergelson : From Modernism to Socialist Realism. Proceedings of the 6th Mendel Friedman Conference
Hardback
Description
Among the finest prose stylists in Yiddish literature, David Bergelson (1884-1952) was caught up in many of the twentieth century's most defining events.
In 1909 he emerged as a pioneer of modernist prose, observing the slow decay of the Tsarist empire.
In 1917 he welcomed the Revolution, but the bloodshed of the ensuing Civil War and the dogmatism of the Bolsheviks drove him to emigration.
For more than a decade (1921-1934), he lived in Weimar Germany, travelling extensively in Europe and the United States.
Shocked by the Wall Street Crash of 1929, disheartened by the decline of Yiddish culture in the West, and inspired by Soviet promises to create a Jewish republic, Bergelson became a Communist sympathiser and moved towards socialist realism.
Returning to the Soviet Union after Hitler's rise to power, Bergelson flourished in a state-sponsored cultural environment in which his work was widely read both in Yiddish and in Russian translation.
After Hitler's invasion of the Soviet Union in 1941, Bergelson became a prominent member of the Jewish Anti-Fascist Committee, writing extensively about the Holocaust. In the paranoia of the Cold War years, the Stalinist regime accused him of anti-Soviet activities and, after a secret military trial he was executed on 12 August 1952, his 68th birthday. For years, critics have argued that Bergelson produced his best work before the Revolution, and afterwards largely wrote Communist propaganda.
David Bergelson: From Modernism to Socialist Realism challenges this view by examining Bergelson's entire oeuvre.
The book argues that Bergelson continually reinvented himself as a writer, experimenting with style and narrative technique even under the most severe restrictions of Party dogma.
With contributions from an international team of Bergelson experts, the volume offers a full-length biography, the first complete bibliography of Bergelson's work, translations of two of his most influential programmatic articles, and a range of essays dealing with all periods of the writer's life. With the contributions: Joseph Sherman- David Bergelson (1884-1952): A Biography Lev Bergelson- Memories of My Father: The Early Years (1918-1934) Daniela Mantovan- Language and Style in Nokh alemen (1913): Bergelson's Debt to Flaubert Kerstin Hoge- For Children and Adults Alike: Reading Bergelson's 'Children's Stories' (1914-1919) as Narratives of Identity Formation Seth L. Wolitz- Yoysef Shor (1922): Between Two Worlds Sasha Senderovich- In Search of Readership: Bergelson Among the Refugees (1928) Mikhail Krutikov- Narrating the Revolution: From 'Tsugvintn' (1922) to Mides-hadin (1929) Ellen Kellman- Uneasy Patronage: Bergelson's Years at Forverts (1922-1926) Gennady Estraikh- David Bergelson in and on America (1929-1949) Ber Boris Kotlerman- 'Why I am in Favour of Birobidzhan': Bergelson's Fateful Decision (1932) Harriet Murav- Memory and Monument in Baym Dnyepr (1932-1940) David Shneer- From Mourning to Vengeance: Bergelson's Holocaust Journalism (1941-1945) Jeffrey Veidlinger- 'Du lebst, mayn folk': Bergelson's Play Prints Ruveni in Historical Context (1944-1947) Joseph Sherman- 'Jewish Nationalism' in Bergelson's Last Book (1947) Roberta Saltzman- A Bibliography of David Bergelson's Work in Yiddish and English David Bergelson- Appendix A.
Belles-lettres and the Social Order (1919) David Bergelson- Appendix B.
Three Centres (Characteristics) (1926)
Other Formats
EPUB from £55.55
PDF from £55.55
Free Home Delivery
on all orders
Pick up orders
from local bookshops