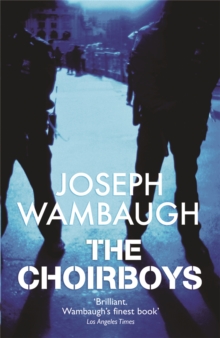 Description
The classic novel of the LA PoliceThey are the Choirboys - the patrol squad of the LA Police attempting to stay sane in an insane world.
The Choirboys are five sets of partners on the night-watch, all men of varying temperaments and backgrounds, but they are joined together by the job, and they have elected to spend their pre-dawn hours in MacArthur Park in relaxing drink and sex sessions they call "choir practice".
This is the story of men endangered ultimately not by the violence of their jobs but by their choice of off-duty entertainment.
Simultaneously darkly funny and terrifying, this is as chillingly authentic as only a veteran police officer could make it.
Information
Format: Paperback
Pages: 368 pages
Publisher: Orion Publishing Co
Publication Date: 05/07/2007
Category: Crime & mystery
ISBN: 9780752882581
Free Home Delivery
on all orders
Pick up orders
from local bookshops
Reviews
Showing 1 - 2 of 2 reviews.
Review by clfisha
16/06/2015
Written in the 70s by an ex-cop, this is a darkly funny and bitter book, with a sharp edge of reality. 'Choir practice is where your average cop meets up to let off steam through drink, drugs and group sex. It's a secret and by invite only so when something bad happens, all hell breaks loose.There are two great things about this: firstly the mix of tone from intensely funny to sad and disturbing and secondly the odd story structure. I was doubtful at first as it indicated a short story approach as each pair of partnered cops get their own chapter interspersed with glimpses of choir practice. But to my surprise the author makes it work very well, gently building layers upon layer of character and plot until the we catch up with current events. So as understanding grows so does the plot and you are slowly reeled in and hooked, especially towards the end as we begin to understand what happened and what the outcome will be.All of the cops are flawed, some are deeply unpleasant sadists but at heart sympathy lies with them, highlighting that the number one cop killer is suicide. All the authors disgust for the upper echelons of the police force and it's here that the book really shines. Cops on the beat are ignored and blamed with equal measure and that makes a dark reality invade the book and gives even more of an edge.A must for any lover of crime novels or black humour. This is a great big noisy book, that gets in your face and won't let go. Highly recommended.
Review by psutto
16/06/2015
Very GoodBlackly humorous look at cop culture in the 1970'sWaumburgh establishes a cast of very memorable and very flawed characters through a series of interconnected stories. The cops who take part in "choir practise" go to a local park to let off steam through drink, drugs and group sex. Each partnership is explored through episodes of investigation and glimpses of choir practise. Inexorably leading to the inevitable denouement where it all comes crashing down. Overall - It reads like a darker vision of the humour of MASH.