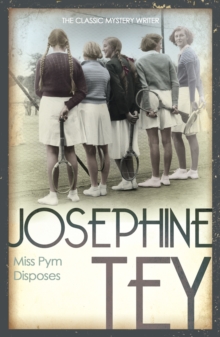 Miss Pym Disposes
Paperback
Description
Leys Physical Training College was famous for its excellent discipline and Miss. Lucy Pym was pleased and flattered to be invited to give a psychology lecture there.
But she had to admit that the health and vibrant beauty of the students made her feel just a little inadequate.
Then there was a nasty accident - and suddenly Miss. Pym was forced to apply her agile intellect to the unpleasant fact that among all those impressively healthy bodies someone had a very sick mind...
Information
Format: Paperback
Pages: 256 pages
Publisher: Cornerstone
Publication Date: 03/02/2011
Category: Crime & mystery
ISBN: 9780099556695
Other Formats
EPUB from £4.99
Hardback from £10.99
Free Home Delivery
on all orders
Pick up orders
from local bookshops
Reviews
Showing 1 - 3 of 3 reviews.
Review by eleanor_eader
16/06/2015
Invited by an old school friend to give a lecture on psychology at a girl's athletic college, Miss Pym - one of the most approachable fictional mystery-solvers that I've ever read – discovers a sinister undercurrent to the driven but seemingly normal surface life of the girls and staff. If Miss Pym is hardly a 'detective' in the usual sense, the crime itself is also almost beside the point of the novel; for much of the book, we see hardly any hint of anything amiss at Ley's, and are content to simply wallow in the amiable guest's pleasant reception by the girls, and to join her in her character assessment of them. In the end, the character of Miss Pym, as well as the girls, is tested.The charm of the setting and characters would have made this story an instant favourite, but I also deeply enjoyed the prolonged, relaxed lead-up to the crime; we are immersed in the world of the girls' studies and career concerns so that when the curiously unlikable and duplicitous Rouse is given the opportunity of a prestigious teaching post over the more natural choice of the brilliant Innes, the impact is properly felt by the reader as much as by their confused and outraged peers.It's a lovely work of crime fiction despite the unchallenging plot, with a sort of frothy girl-school good nature and underlying <i>human</i> nature that make an interesting mix, and Tey's writing style is delightful. Its isn't close to the brilliance of the gripping <i>The Daughter of Time</i>, but it has so much charm of its own that I enjoyed it thoroughly nonetheless; it would have been an easy five-star rating, if not for the casual racisms thrown in here and there. I have, in the past, rated books with five stars despite this bias against even 'era-appropriate' turns of phrase, but in all honesty, they spoiled my enjoyment of this book a measurable, if small, amount, and I'm choosing (both arbitrarily and pointlessly) to reflect it, because if my enjoyment wasn't perfect, I can't really justify rating it as though it was.
Review by sly_wit
16/06/2015
This was an odd book. The murder doesn't even take place until three-quarters of the way through the book. As it takes place in England during the Golden Age of British mysteries, I was destined to like it, but it is far from your typical mystery. And it's very different from her two previous novels, <i>The Man in the Queue</i> and <i>A Shilling for Candles</i>. Perhaps this is because there is a ten-year gap in her work, with World War II falling in the middle.<br/><br/>In any case, I love the world and characters that Tey creates here. It makes me very anxious to read <i>The Daughter of Time</i> and <i>The Franchise Affair</i>, which seem to be people's favorites.
Review by RubyScarlett
16/06/2015
This is excellent and utterly different from anything I've read before. The psychological study is minute, the humour sharp and quotable, the characters detached yet devatastingly human. I don't know what to call this insofar as this is as much a character study of various female students in the forties as it is a mystery novel that advocates applied psychology and body language reading to solve crimes. It is a good whodunnit (though I'd guessed the final twist, it was still quite smart) but it's not its primary purpose, its primary purpose is to look at the consequences of murder on people's lives. It's a pity Tey doesn't delve into more politics with such material and such quality writing, there was so much potential of scope there what with the setting with girls being sent to various positions around the country without having any kind of say into it, but I suppose that's why Dorothy L. Sayers' Gaudy Night is a masterpiece and Miss Pym Disposes is a Really Good Book.