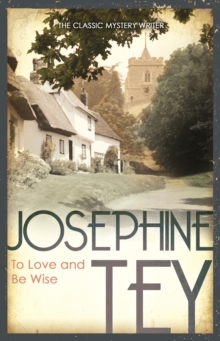 To Love and be Wise
Paperback
Description
Josephine Tey's page-turning classic thriller brims with suspense, mystery and intrigue.
Gripping psychological suspense from the Golden Age of crime fiction. `Permanent classics in the detective field...no superlatives are adequate' New York Times It was rumoured that Hollywood stars would kill for the privilege of being photographed by the good-looking, talented and fashionable portrait photographer Leslie Searle. But what would bring such a gifted figure to the English village backwater of Salcott St Mary? And why - and how - did he disappear? If a crime had been committed, was it murder ... fraud ... or simply a macabre practical joke? Inspector Alan Grant determines to uncover the truth.
Information
Format: Paperback
Pages: 256 pages
Publisher: Cornerstone
Publication Date: 03/02/2011
Category: Crime & mystery
ISBN: 9780099556749
Other Formats
EPUB from £3.99
Hardback from £14.99
Free Home Delivery
on all orders
Pick up orders
from local bookshops
Reviews
Showing 1 - 2 of 2 reviews.
Review by DeltaQueen50
16/06/2015
I always look forward to reading Josephine Tey with anticipation and To Love and Be Wise fulfilled all my expectations. When an unusually good looking young man steps into the life of best-selling author Lavina Fitch's household he appears to be focusing his charm on Lavinia's niece, Liz. He also befriends Liz's fiancé Walter, a well-known radio broadcaster, and together they conceive of a shared book project. But what really lies behind Leslie Searle's insinuation into this family? When he suddenly disappears without a trace, Inspector Alan Grant of Scotland Yard must try to solve the mysteries surrounding this disappearance and determine if he is indeed investigating a well-planned murder.Two words come to mind when I think of Josephine Tey - intelligent and elegant. She never under-estimates her readers, she neither spoon-feeds us nor lead us by the hand into her complex stories. The mysteries are used to this writers' best advantage, that of exploring characters. Major or minor, her characters are well developed, unique and real. There is a sophistication to her books that never condecends it simply adds to the style. To Love and Be Wise, with it's detailed character development and mostly believable plot twists ensures that this book still stands up well even 60 plus years after publication. I enjoy the mysteries of Josephine Tey, but for me it's the quality of the writing that is the main draw. There is a genuine effortlessness and great style to her writing that makes for very pleasurable reading.
Review by RubyScarlett
16/06/2015
God can this woman write anything worthy of less than five stars? How is she not more famous? Her talent is so underrated. I'm consistently impressed with her work. In To Love and Be Wise (which is a lovely title) it's fair to say the investigation makes absolutely no progress for 90% of the book, and yet so much happens. Tey is unparalleled at drawing vivid, jump-off-the-page characters. I have never met a more self-confident author. Her voice can be incredibly hilarious at the most unexpected moments and though the case itself is fairly light throughout (for most of the novel indeed nobody's sure there's even a case at all) it's a wonderful occasion for her to display her knowledge of human nature and she does so beautifully. The end is incredible - both completely out there and so logical. I've never read an end that feels both like a tremendous deflation and the greatest stroke of genius ever. She's amazing. Please do read her if you haven't already.