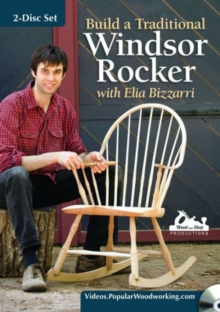 Building a Windsor Chair with Elia Bizzari
DVD Audio
Description
Build your own piece of history! Learn to build an elegant continuous-arm Windsor rocking chair from log to fi nish in this detailed, step-by-step video.
This historical chair--a cherished form from British and American history - is a delight to build and a joy to sit in.
You'll learn to: Select and split a logDetermine what split becomes which chair pieceShave the spindles and shape the seatSteam-bend the chair's backTurn legs on a latheDry the tenons in a homemade kilnBore seat holes without jigsCut the rocker slotsAssemble the chair using wedges and hide glueElia teaches you everything you need to know, with eight hours of instruction, how to build this classic and comfortable Windsor rocking chair by hand.