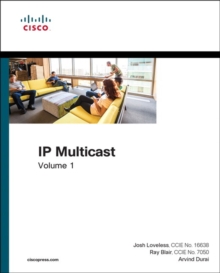 IP Multicast, Volume I : Cisco IP Multicast Networking
Paperback / softback
Description
IP Multicast Volume I: Cisco IP Multicast Networking Design, deploy, and operate modern Cisco IP multicast networks IP Multicast, Volume I thoroughly covers basic IP multicast principles and routing techniques for building and operating enterprise and service provider networks to support applications ranging from videoconferencing to data replication. After briefly reviewing data communication in IP networks, the authors thoroughly explain network access, Layer 2 and Layer 3 multicast, and protocol independent multicast (PIM).
Building on these essentials, they introduce multicast scoping, explain IPv6 multicast, and offer practical guidance for IP multicast design, operation, and troubleshooting.
Key concepts and techniques are illuminated through real-world network examples and detailed diagrams. Reflecting extensive experience working with Cisco customers, the authors offer pragmatic discussions of common features, design approaches, deployment models, and field practices.
You'll find everything from specific commands to start-to-finish methodologies: all you need to deliver and optimize any IP multicast solution. IP Multicast, Volume I is a valuable resource for network engineers, architects, operations technicians, consultants, security professionals, and collaboration specialists.
Network managers and administrators will find the implementation case study and feature explanations especially useful. * Review IP multicasting applications and what makes multicast unique * Understand IP multicast at the access layer, from layered encapsulation to switching multicast frames * Work with Layer 2 switching domains, IPv4 group addresses, and MAC address maps * Utilize Layer 3 multicast hosts and understand each PIM mode * Implement basic forwarding trees and rendezvous points * Compare multicast forwarding modes: ASM, SSM, and PIM Bidir * Plan and properly scope basic multicast networks * Choose your best approach to forwarding replication * Apply best practices for security and resiliency * Understand unique IPv6 deployment issues * Efficiently administer and troubleshoot your IP multicast network This book is part of the Networking Technology Series from Cisco Press (R), which offers networking professionals valuable information for constructing efficient networks, understanding new technologies, and building successful careers. Category: Networking Covers: IP Multicast
Information
Format:Paperback / softback
Pages:384 pages
Publisher:Pearson Education (US)
Publication Date:04/11/2016
Category:
ISBN:9781587144592
Also in the Networking Technology series | View all