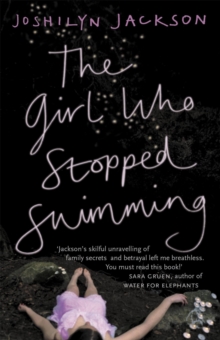 The Girl Who Stopped Swimming
Paperback
Description
Laurel Hawthorne has worked hard to create a good life for her family, determined not to raise her daughter in the subdued, secretive household that she herself grew up in. And everything is just fine until the night she is awoken by a ghost in her bedroom; the ghost of 14-year-old neighbour Molly, whose body is now floating, face-down and lifeless in Laurel's swimming pool ...The whole town thinks it was an accident, but Laurel knows in her bones that there is something more sinister afoot. And that's when her perfect world begins to crumble.
With the help of her eccentric sister, Laurel sets off on a mission to investigate what really happened to the girl who stopped swimming.
But along the way she starts to uncover the truth about her family, and just what did happen in the woods all those years ago - on a day she has managed to blank out, until now ...
Information
Format: Paperback
Pages: 320 pages
Publisher: Hodder & Stoughton General Division
Publication Date: 17/04/2008
ISBN: 9780340921937
Free Home Delivery
on all orders
Pick up orders
from local bookshops
Reviews
Showing 1 - 5 of 5 reviews.
Review by camcleod
16/06/2015
I was disappointed in this one by Jackson whose other two books (Between, Georgia and gods in Alabama) I really enjoyed. I agree with the review which said the first 200 pages were good. I got that far and was excited. I liked Laurel and her wild sister Thalia, plus character of David the husband was well drawn too. Then it fell apart.Maybe I'm just reading too many other books right now on the issue of social class, but I felt like the subject wasn't handled well in here, despite Jackson's good intentions. And are there really coal mines in south Alabama? Doesn't sound right to me. Jackson's a great southern chick lit writer. This just wasn't her best effort. I do like her blend of suburbia and the supernatural, so I hope she'll do more with that in the future.
Review by paulmorriss
16/06/2015
I don't know if there's a genre of fiction where the main character does detective work but isn't a detective. If there were, this book would be in it. The main character is very interesting, as is her sister, who gets involved in the investigation. As well as the main strand of the story there are other strands of their past lives that get mixed in. The ghost strand of the story adds an extra dimension, without dominating the plot.An involving mystery.
Review by annmariegamble
16/06/2015
Nice interplay between the sisters: on the one hand, you know me best; on the other hand, get out of my house and never come back. Likewise a couple of good spouses: loyal but with opinions of their own. The ripple effects that a past tragedy brings to the next one.
The characters are an awesome dynamic in this book - the way they interact is what made me keep reading.
Review by BookConcierge
27/01/2016
Audio book read by the author<br/><br/>Laurel sees dead people; so when a transparent young girl, apparently soaking wet, appears at the foot of her bed, she lets the ghost lead her to the window. She's been sleepwalking again, but when she awakens, Laurel sees that there is a girl floating in her backyard pool. <br/><br/>This is a modern-day Southern Gothic novel. Jackson is a talented writer and fills her novels with wonderfully eccentric characters, as well as family secrets, dark undercurrents of poverty, alcohol and drug use, domestic violence, and illicit sex. As is usual in her books, there are competing motives at work. Characters behave in an apparently bad way for good reasons, or in an apparently good way for bad reasons. This keeps the reader guessing as to what is really going on, building suspense and holding the reader's interest. Just as it happens in real-life sibling relationships, there were times when I felt sympathetic towards a particular character, and other times when I wanted to smack him/her. I was surprised by the way things turned out; though I did think it was a little too convenient an ending. <br/><br/>Jackson has some theatrical training and does a wonderful job of reading her work. Her facility with accents gives life to the many characters and makes it easy to tell who is speaking when listening to the audio. <br/>