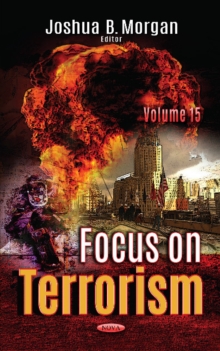 Focus on Terrorism : Volume 15
Hardback
Description
Terrorism, sadly, seems here to stay and to stay with a vengeance.
It turns out that the United States was not prepared for it and now must play catch-up.
In doing so, even agreement on how to define terrorism is in doubt and what to do about it seems beyond comprehension at the moment.
This volume presents a broad cross section of analyses of weaknesses and actions in the ongoing battle against terrorism.
Chapter One attempts to answer the question of whether terrorist networks are migrating not only towards an urban environment, but to a megacity environment.
Chapter Two focuses on qualitative research regarding the cyber threat that has continually beleaguered this nation by malevolent actors over the last decade and how these nefarious individuals, non-state actors, or nation states can implement the instruments of national power through the application of a new model named the York Intelligence Red Team Model (YIRTM) using sources guided by the Federal Secondary Data Case Study Triangulation Model to arrive at results.
Chapter Three examines how public relations research could both help other related disciplines and benefit from other disciplines by comparing terrorism-related communication research from two different approaches: persuasion and public relations.
Chapter Four centres on the belief that by the introduction of fear, jihadist terrorism affects the social trust of western societies.
Chapter Five develops the thesis that terrorism placed the western axiom of hospitality in jeopardy, adopting the process of securitization as the main axis of dialogue between workers and capital owners.
Chapter Six argues that an elaboration over the role of the passport as a regulatory mechanism promotes fresh interdisciplinary observations on the nature of global capitalism via the new mobilities paradigm.
Chapter Seven explores how the rise of international terror has changed not only the tourist industry but also the film industry.
Chapter Eight investigates media representations of Jews and Arabs in the 1930s and 2010s, concluding that many of the issues that were prominent in the lead up to World War II are also prominent during the War on Terror.
Information
Format: Hardback
Pages: 175 pages
Publisher: Nova Science Publishers Inc
Publication Date: 01/10/2017
Category: Terrorism, armed struggle
ISBN: 9781536124453
Free Home Delivery
on all orders
Pick up orders
from local bookshops