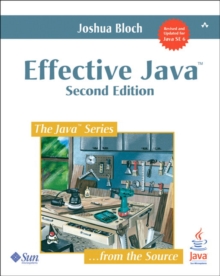 Effective Java : A Programming Language Guide
Paperback
Description
Are you looking for a deeper understanding of the Java(TM) programming language so that you can write code that is clearer, more correct, more robust, and more reusable?
Look no further! Effective Java(TM), Second Edition, brings together seventy-eight indispensable programmer's rules of thumb: working, best-practice solutions for the programming challenges you encounter every day.
This highly anticipated new edition of the classic, Jolt Award-winning work has been thoroughly updated to cover Java SE 5 and Java SE 6 features introduced since the first edition.
Bloch explores new design patterns and language idioms, showing you how to make the most of features ranging from generics to enums, annotations to autoboxing.
Each chapter in the book consists of several "items" presented in the form of a short, standalone essay that provides specific advice, insight into Java platform subtleties, and outstanding code examples.
The comprehensive descriptions and explanations for each item illuminate what to do, what not to do, and why. Highlights include: *New coverage of generics, enums, annotations, autoboxing, the for-each loop, varargs, concurrency utilities, and much more*Updated techniques and best practices on classic topics, including objects, classes, libraries, methods, and serialization*How to avoid the traps and pitfalls of commonly misunderstood subtleties of the language*Focus on the language and its most fundamental libraries: java.lang, java.util, and, to a lesser extent, java.util.concurrent and java.io Simply put, Effective Java(TM), Second Edition, presents the most practical, authoritative guidelines available for writing efficient, well-designed programs.
Information
Format: Paperback
Pages: 384 pages
Publisher: Pearson Education (US)
Publication Date: 08/05/2008
Category: Web programming
ISBN: 9780321356680
Free Home Delivery
on all orders
Pick up orders
from local bookshops
Reviews
Showing 1 - 2 of 2 reviews.
Review by Chamelaeon
16/06/2015
Joshua Bloch, once a developer for Sun (and in fact one of the primary authors of the Java Collections API), guides you through a series of enlightening "Dos and Don'ts" about the Java programming language. The book is broken up into short items, with each item containing evidence, examples, and a good conversational explanation of the item. It's a great deal thinner than its C-language counterpart, but don't let that dissuade you from the purchase; Bloch will save you a ton of time reading through the JLS, or learning these lessons the hard way. I keep a copy in my work desk for reference, and even if you've been programming Java for years, it's likely you'll learn something.
Review by EmreSevinc
16/06/2015
This book not only provides gems of advice for core Java programming but also for programming in general, especially if your code will be provided as an API to other programmers and if it is going to live for more than a few months. Another interesting aspect of the book is that the more I contemplate upon it, the more it resembles like advocacy for functional programming. At least some parts really made me think like "hmm, that would be considered natural in Scala" (insert your favorite functional programming language here, even if it's not purely functional in the strictest academic sense). The book is also helpful if you've spent long time in high level languages such as Python or Lisp before coming to Java, and are curious about how you can get an approximation of some of their good parts such as optional named arguments. The foreword of Guy L. Steele, Jr. says it all: after learning the vocabulary and grammar of a language you need to master the pragmatics of it rooted in real life cases so that your communication with other language speakers will smooth flowly. Bloch's book helps you with that effectively and I think every programming language deserves at least one author of Bloch's calibre.
Also by Joshua Bloch