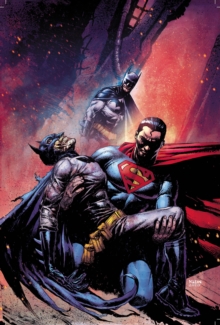 Superman/Batman Volume 7
Paperback / softback
Description
In these epic team-up stories, the Man of Steel finds himself fighting side-by-side with a strange Batman against a horde of Solomon Grundies. And just what is the sun doing to his powers? Batman, Doctor Occult, Detective Chimp and Klarion the Witchboy must face a magical Armageddon in the present as Superman is taken to meet the future Justice League at the Hall of Doom!
How did things go so wrong -- and can anything be done to stop it?
From author Joshua Hale Fialkov comes the next instalment of DC Comics crime-fighting team-up in Superman/Batman Vol. 7. Collects Superman/Batman #76-87, Superman/Batman Annual #5.
Information
Format: Paperback / softback
Pages: 328 pages
Publisher: DC Comics
Publication Date: 14/04/2019
Category: Comics and Graphic Novels
ISBN: 9781401288013