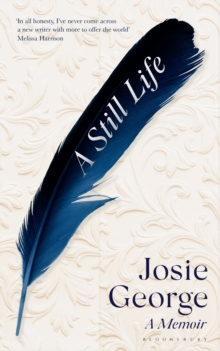 A Still Life : A Memoir
Hardback
Description
'A manifesto for recalibrating' DAILY MAIL'I can't think of many books where the reader feels so passionately on the side of the narrator' Guardian'Full of kindness, A Still Life will make you a better person' CLARE MACKINTOSHAN EVENING STANDARD BOOK OF 2021Josie George lives in a tiny terraced house in the urban West Midlands with her son.
Since her early childhood, she has lived with the fluctuating and confusing challenge of disabling chronic illness.
Her days are watchful and solitary, lived out in the same hundred or so metres around her home. But Josie's world is surprising, intricate, dynamic.
She has learned what to look for: the complex patterns of ice on a frozen puddle; the routines of her friends at the community centre; the neighbourhood birds in flight; the slow changes in the morning light, in her small garden, in her growing son, in herself. In January 2018, Josie sets out to tell the story of her still life, over the course of a year.
As the seasons shift, and the tides of her body draw in and out, Josie begins to unfurl her history: her childhood bright with promise but shadowed by confinement; her painful adolescence and her hopeful coming of age; the struggle of her marriage, and the triumph of motherhood. And then a most unexpected thing happens in Josie's quiet present: she falls in love. A Still Life is a story of illness and pain that rarely sees the light: illness and pain with no end or resolution; illness and pain that we must meet with courage, joy, ingenuity and hope.
Against a world which values 'feel good' progress and productivity above all else, Josie sets out a quietly radical alternative: to value and treasure life for life itself, with all its defeats and victories, with all its great and small miracles. 'A beautiful memoir, A Still Life is joy-lit: vivid, lovestruck, hopeful and wise ...
I've never come across a new writer with more to offer the world' MELISSA HARRISON'Josie George is the kind of writer I strive to be ...
A tough, tender, beautiful book about existing in a body in the world.
I loved it' ELLA RISBRIDGER'Could not be more timely ...
An immensely talented writer' LINDA GRANT
Information
Format:Hardback
Pages:400 pages
Publisher:Bloomsbury Publishing PLC
Publication Date:18/02/2021
Category:
ISBN:9781526611970