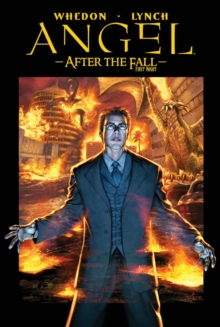 Angel After The Fall First Night Volume 2
Paperback
Description
* The second softcover collection of IDW's smash-hit Angel: After the Fall!
First Night begins! What happened on the very night Los Angeles went straight to hell, the incident that ended the Angel television series with such a shocking cliffhanger?
Why did the team go their separate ways? And how did Connor rise up to become one of Hell's greatest champions?
Information
Format: Paperback
Pages: 104 pages
Publisher: Idea & Design Works
Publication Date: 01/11/2009
Category: Horror & ghost
ISBN: 9781600103933
Free Home Delivery
on all orders
Pick up orders
from local bookshops
Reviews
Showing 1 - 4 of 4 reviews.
Review by ElizaJane
16/06/2015
Reason for Reading: Next in the series.Summary: After the shocking ending of Vol. 1, Vol. 2 leaves us hanging and backs up in time to the first night after the ending of the television series. This book is smaller containing only 3 comics that contain vignettes of all the characters showing us where they ended up that first night, why they are no longer all together and how they came to be in the situations we find them in Vol. 1. Angel himself is not in this volume at all, which is a little odd at first but this book's purpose is to re-establish the other characters, whom we knew so well, with the new turns their character's have taken in Vol. 1. There is also a surprise return of an old character from the series. I was never fond of this person on the show but their introduction here was very exciting and I look forward to Angel's response to seeing this person back in town. The book ends with an art gallery of covers and work by various artists, then an article by Lynch on a few stories they thought of putting in the issues but didn't for one reason or another and then finally ends with a page by page run through of notes for each issue with thoughts on what ended on the page or the ideas behind it. Very interesting stuff. First Night is a quick read and while not quite as OMG exciting as Vol. 1, definitely a great read with wonderful art especially some work by Nick Runge of Amy Acker (stunning!)
Review by savageknight
16/06/2015
So what happened that First Night when Los Angeles went to Hell? This is the collection that reveals it! From Wesley's death, to Gunn being turned, it's all here with a good number of guest stars who are very important in the battle. Another thrilling adventure by Bryan Lynch that keeps the entertainment factor quite high!
Review by alwright1
16/06/2015
Volume 1 of this series ended in a cliff hanger, but instead of resolving, this volume travels back to the night of the fall of Los Angeles, right where the TV series ended. It was nice to understand how people had got to the places they were when volume 1 began, but honestly now that they were there, I was ready to go forward. Wesley's story is particularly heart breaking...as ever.
Review by AVoraciousReader
27/08/2015
*Book source ~ LibraryEven though this is Volume 2, this graphic novel takes place right after the end of Angel Season 5, Episode 22 Not Fade Away. It contains short stories about what happens to many characters from the series: Betta (comics), Spike, Illyria, Connor, Lorne, Wesley, Kate, Gwen, Gunn and Civilians. There is also an art gallery at the end followed by some exposé by Brian Lynch. All interesting stuff. And I must add how much I loved Groo's blog post at the beginning of the book. Good shit there!I haven't read any of the other Angel comics, so this is the first one I've cracked open. Even though it's Volume 2, chronologically it takes place before Volume 1. I think. I'm not sure, but I'm about to find out. Anyway, I quite enjoyed both the stories and the artwork in this volume. I have to admit I have no clue who/what that Betta fish thing is, so I guess I need to go back to the comics and find out. I was very happy to see Kate and Gwen again. They were some of my favorite minor characters from the show (Groo was another) and I wish they had stuck around longer. All-in-all I'm quite pleased with this graphic novel.