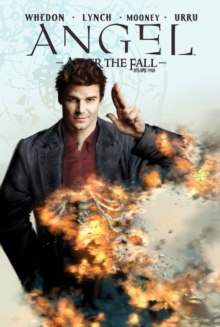 Angel After The Fall, Vol. 4
Hardback
Description
* The excitement of After the Fall continues in this latest offering from Whedon and Lynch. * With truths revealed, master plans laid out, and people dying, it's clear evil is winning the fight in Los Angeles.
In this decisive collection, a final climactic battle will see Angel live free or die for the final time.
Soon the "fall" will be concluded, and the Aftermath will be revealed!
Information
Format: Hardback
Pages: 132 pages
Publisher: Idea & Design Works
Publication Date: 14/07/2009
Category: Horror & ghost
ISBN: 9781600104619
Free Home Delivery
on all orders
Pick up orders
from local bookshops
Reviews
Showing 1 - 2 of 2 reviews.
Review by fyrefly98
16/06/2015
Summary: Gunn, now unsure of the source of his visions, is trying to get things back to the way they were before everything went to Hell - by killing Angel. And Angel, now that he's seen the outcome of the Shanshu Prophecy and his own role in the Apocalypse, is more than willing to let him. But of course Wolfram & Hart aren't going to let things go down like that, and while the gang thinks they may have figured out a way to get themselves out of hell, things are going to get messy - and more than a little deadly - before they do. Review: I like this one. I liked this one a lot. Well, a lot better than the first three volumes, at least. It does an excellent job of explaining what the heck's going on, of tying together loose ends, of bringing things to a satisfying end, and of leaving enough open questions to fuel the start of a new story arc. There were also a lot of really good - and really touching - character moments, even for characters that I don't normally care that much about. All in all, while I don't think Angel: After the Fall is going to be knocking Buffy Season 8 off its pedestal any time soon, this final volume did make me appreciate the cool directions in which Whedon & Lynch had been taking the story, and brought the whole thing together better than I had expected. 4 out of 5 stars.Recommendation: The best of the series, I think, and it definitely helps to make sense of what's come before.
Review by EmScape
16/06/2015
Angel and his friends continue to deal with having been sent to hell following the battle against Wolfram & Hart. Writing continues to be spot on, though there weren't as many cool extras at the end, just an original treatment of the entire series that was largely scrapped. Disappointing considering what the previous volumes contained. My eyes continued to be completely overwhelmed by the graphic illustrations, but as I am not a general reader of graphic novels, I don't have much to compare them to. As ever, I completely rejoice in anything Whedon is involved with.