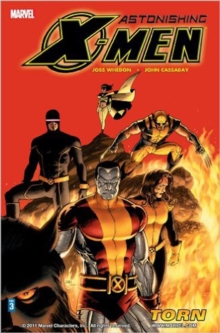 Astonishing X-men Vol.3: Torn
Paperback
Information
Format: Paperback
Pages: 152 pages, 1 Illustrations, unspecified
Publisher: Marvel Comics
Publication Date: 01/02/2007
Category: Superheroes
ISBN: 9780785117599
Free Home Delivery
on all orders
Pick up orders
from local bookshops
Reviews
Showing 1 - 5 of 7 reviews.
Previous | Next
Review by mattypsaidso
16/06/2015
I don't tend to get antsy when reading comics, but this one was pretty gripping! Couldn't wait to finish it... read it very very fast. Emma Frost is a goddess, too.
Review by jbushnell
16/06/2015
Another solid volume of Whedon / Cassady's "Astonishing X-Men" run. The heavy reliance on psychic sequences / fake-outs in this one requires a second read to clarify exactly what's happening, but it's still good fun, by and large.
Review by MeriJenBen
16/06/2015
After having revealed that Emma Frost has been communicating with members of a reformed and reinvigorated Hellfire Club, which includes Xavier's "twin" Cassandra Nova, the scantily clad vilainess finally makes her move against the team. Emma psychologically destroys Cyclops, cutting him off from his powers. Cassandra Nova turns Logan into the prissy Victorian he was meant to be, and turns Beast feral. The object of their attack is a steel clad box in the basement of the X-Mansion, contents unknown. Meanwhile, S.W.O.R.D id's the X-man most likely responsible for destroying the Breakworld, and begins to move against him. As much as I love Whedon and Cassaday, this book did not work for me as well as the first two. Me thinks it delves too much into the back story of the X-Men for a casual fan like myself. It was nice to see Kitty Pride finally kick some butt, and the interplay between Logan and Henry was priceless. Whedon excels at creating small moments, and does a wonderful job with Emma, and her conflicted nature. The Breakworld subplot moves at a snail's pace and really doesn't add much to the story. The artwork remains stellar, clean and uncomplicated, but, particularly for the uninitiated, this book is somewhat disappointing.
Review by Alixtii
16/06/2015
After the action of <i>Dangerous</i>--a trade where a lot happens without necessarily meaning all that much--<i>Torn</i> represents a retreating of the X-Men back into themselves, taking place pretty much all at the school itself. But plenty happens when revelation after revelation shakes our heroes' world, and the X-Men have to deal with both the practical and emotional fallout. My favorite among these revelations is our finding out the real reason why Emma chose Kitty Pryde to be on the team: it's wonderfully in character for both of them, takes what we know about these two and twists in an unexpected way, and is emotionally poignant, even heartbreaking. While providing a set-up for the next volume, <i>Unstoppable</i>, this trade still manages to focus on the characters: their strengths, their weaknesses, their hopes, their dreams, and their fears. While much of the focus is on Emma and Kitty (Whedon's penchant for strong female characters serves us well once again), <i>all</i> of the Astonishing team have to face a part of themselves they don't like in order to pull themselves back together as individuals and as a team at the end--and whether they truly succeed is, I think, debatable.The success of Whedon and Cassaday, on the other hand, is neary undeniable. In <i>Torn</i>, they really manage to mine the depth and complexity of these wonderful characters we love (or, in some cases, perhaps love to hate) so much.
Review by MerryMeerkat
16/06/2015
I found this volume to be really confusing. I guess its because I don't know a lot of history of the Xmen. But the art was great and the story, from what I can follow, is good.