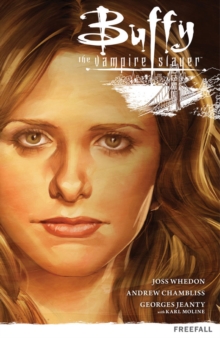 Buffy The Vampire Slayer Season 9 Volume 1: Freefall
Paperback
Information
Format: Paperback
Pages: 136 pages, 1 Illustrations, unspecified
Publisher: Dark Horse Comics,U.S.
Publication Date: 03/07/2012
Category: Horror & ghost stories
ISBN: 9781595829221
Free Home Delivery
on all orders
Pick up orders
from local bookshops
Reviews
Showing 1 - 5 of 5 reviews.
Review by macha
16/06/2015
it's San Francisco. magic is gone from the world, and Buffy is thinking of giving just being a girl a try (no slayer, no chosen, no one). results so far: mixed, what with the party hangover, her face on the wanted posters, the way too much slayage even yet, and the evil student loan demon. but the new roommates are cool, the coffeehouse gig at least has coffee, and her and Willow are trying to deal where there's blame. Spike is also trying to keep his distance, so she can try some normal life. meanwhile, there's an interesting new demon in town, Xander's spending a lot of time on the couch, and Willow has a new haircut and a new girlfriend. turns out there's quite a lot going on in ordinary life, apart from the usual of being kneedeep in zompire bodies and having confusing post-slayer dreams. Joss is in excellent form. and Jane's got a lovely and hilarious mini at the back in which King Spike goes on a sailing trip with the beetles in the dirigible. and hey, Buffy's there to greet him when he gets back, like it's no big, so bonus.
Review by catfantastic
16/06/2015
I enjoyed the first few volumes of the <i>Buffy Season Eight</i> series, but I felt the comics got more and more nonsensical, to the point of where the story was just ridiculous, with the penultimate volume 7 (written by Brad Meltzer) being the lowest point. So I was hesitant about reading the <i>"Season Nine"</i> comics, but in the end my curiosity and love for the characters won out. <i>Buffy Season Nine vol 1: Freefall</i> is written by Joss Whedon, which I a great relief. But I really wish they would get a different regular artist than Georges Jeanty - I can't say I'm a fan of his style, the characters look far too young and they can be difficult to recognize. His fill-in, Karl Moline, who illustrates the last issue in this collection, is slightly better - at least I can recognize some of their facial features and they look a bit older, but I'm not wholly impressed with his work, either.As far as the story goes, Buffy is living in San Francisco, enjoying a somewhat normal life with two new normal roommates and a normal job at a coffee shop. But she must deal with the fallout of her destroying the "seed" - the source of all magic - at the end of <i>Season Eight</i>. Vampires created after the destruction of the seed are mindless zombie-vampires (dubbed "zompires" by Xander!) Also, Buffy meets a young man named Severin, with the ability to siphon off magical energy from whatever he touches - effectively reverting feral vampires to human corpses! The last page contains a genuinely surprising twist and I am curious to see where the <i>Buffy</i> story will go from here.
Review by fyrefly98
16/06/2015
Summary: Buffy thought destroying the seed and removing magic from the world would solve her problems, but it turns out that it just swapped them out for an entirely new set of problems. Because with the universe cut off from the magical seed, Willow and the other witches are powerless, demons are stuck in the wrong dimension, and newly-sired vampires are running feral. And to top it all off, there's something out there that's turning vampires into human corpses... and the police think Buffy's to blame.Review: I was not totally thrilled with the season 8 story arc... especially the last few volumes. Things just got too big, and the explanations too crazy, and it felt like the whole thing spiraled out of the writers' control. But Whedon has said that he plans to keep season 9 smaller, more focused on Buffy and her everyday life, and I have to say: so far, so good. This season's Big Bad (or at least its forerunner; I don't expect the real Big Bad to show up right at the beginning) is creepy and dangerous and intriguing. The hints we get about the state of the relationships between the characters are also interesting, and even in this first installment, there are some quiet but nicely crafted emotional moments in between the Buffy-typical banter and snark. The artwork is about the same as in season 8 - i.e., no one looks much like themselves, but it's consistent enough within the pages of the comic to tell who's who. Overall, a promising new beginning, and enough to lure me back in after the end of season 8 had tempted me to check out. 4 out of 5 stars.Recommendation: I don't know that reading season 8 is really all that necessary to understanding this one - they're pretty good about summarizing the key plot points - but you definitely need to be a fan of the show at the least.
Review by District13
16/06/2015
Nice not to have to leave the Buffy-verse just yet, but S9 doesn't quite hold one's attention the way that S8 did. Still worth a read though.
Review by AVoraciousReader
27/01/2016
*Book source ~ LibraryFrom Goodreads:Season 8 ended with a bang that cut the world off from magic—culminating in another set of world-ending problems. Buffy has left her best friend, Willow, powerless, and brought an end to a millennia-long tradition of superpowered girls. By day, Buffy is a twenty-something waitress with no real direction, and even though magic is gone, she's still a vampire Slayer by night. Bigger problem? Vampires are becoming an epidemic . . . of zompires!First, the artwork…love it! Most of the characters look the way I expect them to and I love the new peeps. There was one guy I wasn't sure who it was, but then I realized it was Riley. He definitely didn't look right. Other than that, I loved it.Now, the story…I was quite disappointed with Season 8, but being a fan I knew I had to continue on. I have to say this new season is starting off with promise. After the destruction of the seed, things are very grim for the magical community, but Buffy still needs to slay vampires. Unfortunately, she needs a job in order to pay bills, so she works in a coffee shop. She sorta has the normal mundane life she once wanted with a job and an apartment with roommates, but things are never what they seem. Zompires? Eldre Koh? Severin? Spike? The groundwork is laid and it looks like things are going to be very interesting. I hope they continue to be so and that ending? Holy shit! What will Buffy do now?!