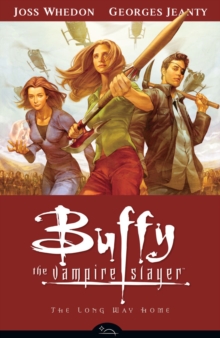 Buffy the Vampire Slayer : Long Way Home Season 8, Volume 1
Paperback
Description
Since the destruction of the Hellmouth, the Slayers - newly legion - have gotten organized and are kicking some serious undead butt.
But not everything's fun and firearms, as an old enemy reappears and Dawn experiences some serious growing pains.
Meanwhile, one of the "Buffy" decoy slayers is going through major pain of her own.
Buffy creator Joss Whedon brings Buffy back to Dark Horse in this direct follow-up to season seven of the smash-hit TV series.
The bestselling and critically acclaimed issues numbered 1-5 are collected here for the first time, as are their covers by Jo Chen and Georges Jeanty.
Information
Format: Paperback
Pages: 136 pages, 1
Publisher: Dark Horse Comics,U.S.
Publication Date: 30/10/2007
Category: Horror & ghost stories
ISBN: 9781593078225
Free Home Delivery
on all orders
Pick up orders
from local bookshops
Reviews
Showing 1 - 5 of 38 reviews.
Previous | Next
Review by takieya
16/06/2015
It's been very pleasing to read a follow up to <i>Buffy The Vampire Slayer</i> as this was one of my favourite shows for seven years, and it continues to be even now. This was a wonderful start to the series of graphic novels, and I'm really looking forward to reading the others that will follow. A must for any diehard fan of the TV show...
Review by craso
16/06/2015
This is the official sequel to the Buffy the Vampire Slayer television show. Some of the stories are written by the series creator, Joss Whedon. The story arc of this eighth, and untelevised, season of Buffy is "The Long Way Home," referring to the large hole that once was Sunnydale. In season seven, Willow used her magical powers to unlock the slayer ability in all the potentials around the world. They have all banded together with Buffy as their leader. A military agency considers them a "terrorist" threat and recruits two enemies from the slayer's past to stop them.As this is just the beginning of a full season, characters are being reintroduced and storylines are just getting started. Watching these characters again in new adventures is really exciting but the story is somewhat incomplete. All of the episodes will need to be read together to get a full picture with a clear resolution in the last episode; just like a television show.
Review by puttocklibrary
16/06/2015
I wasn't sure about the whole graphic novel format, but I picked it up regardless, as I wanted more Buffy!!There are some interesting storylines introduced here, and its wonderful to "hear" the voices of some of my favourite characters ever, once again. I want more!!
Review by sixteendays
16/06/2015
As excited about the idea as I was, I put off reading Season 8 for a lot longer than I probably should have. Thankfully, I wasn't disappointed in the least by the first five "episodes" of this new season. For the most part, the character development has obviously continued, and by the way each character is presented you can almost get a feel for what they went through in the time between the end of the show and the beginning of the comic. They have changed, grown, matured but most importantly, they have also retained the very essence of who they are. For any Buffy fan, this is the most important aspect, regardless of storyline.My only criticisms are thusly: 1. Buffy, out of everyone, seems to have changed the least. The end of the show ended on her knowing smile, but it almost feels as if that smile took her no where. She doesn't seem to be all that thrilled, still, with her station in life and she still feels a little too disconnected from everyone else. (This may, however, be part of the overall story arch.)2. Dawn is still just as pointless as ever. You could remove her from the story and nothing would change. Dead weight (and this time, a whole lot of it).Overall, I love it. It excites me. Part of me wishes I was watching it on screen, but most of me is happy to be reading it as well.
Review by yarmando
16/06/2015
The adventures of Buffy and company after the series. This is wonderful gift to the fan community, continuing the series in another medium. I expect that eventually Whedon will tire of it and want to move on, but I love seeing where the creator of these characters sees them going. There's an authenticity here that fan fiction just can't provide.